Problem:
I upgraded Katello from 4.1 to 4.2.
Afterwards the repo syncs are not working.
I get the following error messges when I try a repo sync.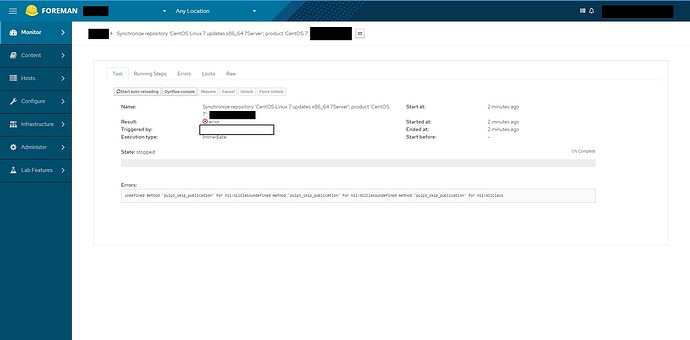 When I have a look at the Katello Systems it seems that pulp 3 has no supported content typs (yum/deb … ).
I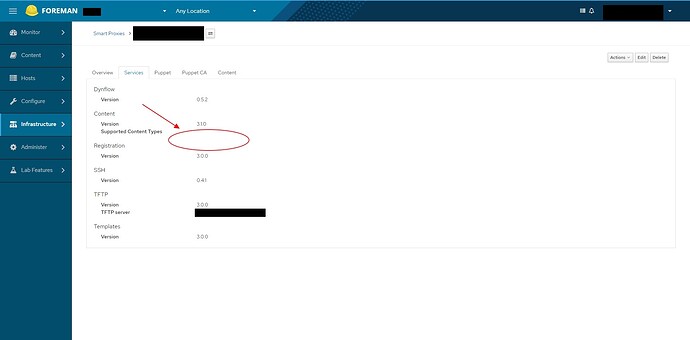 It seems that the Cntent Typs have been removed during the upgrade.
Does anyone have any idea regarding this topic.
How can I enable the Supported Content Typs again ?
Expected outcome:
Repo Sync should work
Foreman and Proxy versions:
candlepin-4.1.7-1.el7.noarch
candlepin-selinux-4.1.7-1.el7.noarch
foreman-3.0.0-1.el7.noarch
foreman-cli-3.0.0-1.el7.noarch
foreman-debug-3.0.0-1.el7.noarch
foreman-discovery-image-service-1.0.0-4.el7.x86_64
foreman-dynflow-sidekiq-3.0.0-1.el7.noarch
foreman-installer-3.0.0-1.el7.noarch
foreman-installer-katello-3.0.0-1.el7.noarch
foreman-postgresql-3.0.0-1.el7.noarch
foreman-proxy-3.0.0-1.el7.noarch
foreman-release-3.0.0-1.el7.noarch
foreman-selinux-3.0.0-1.el7.noarch
foreman-service-3.0.0-1.el7.noarch
katello-4.2.0.1-1.el7.noarch
katello-agent-3.3.5-4.el7.noarch
katello-certs-tools-2.8.0-1.el7.noarch
katello-client-bootstrap-1.7.7-1.el7.noarch
katello-common-4.2.0.1-1.el7.noarch
katello-debug-4.2.0.1-1.el7.noarch
katello-default-ca-1.0-1.noarch
katello-host-tools-3.3.5-4.el7.noarch
katello-host-tools-fact-plugin-3.3.5-4.el7.noarch
katello-repos-4.2.0.1-1.el7.noarch
katello-selinux-4.0.2-1.el7.noarch
katello-server-ca-1.0-1.noarch
katello-service-3.13.4-1.el7.noarch
pulp-admin-client-2.21.5-1.el7.noarch
pulp-client-1.0-1.noarch
pulp-deb-plugins-1.10.2-1.el7.noarch
pulp-docker-plugins-3.2.9-1.el7.noarch
pulp-katello-1.0.3-1.el7.noarch
pulp-puppet-plugins-2.21.5-1.el7.noarch
pulp-puppet-tools-2.21.5-1.el7.noarch
pulp-rpm-admin-extensions-2.21.5-1.el7.noarch
pulp-rpm-plugins-2.21.5-1.el7.noarch
pulp-rpm-yumplugins-2.21.5-1.el7.noarch
pulp-selinux-2.21.5-1.el7.noarch
pulp-server-2.21.5-1.el7.noarch
pulpcore-selinux-1.2.6-1.el7.x86_64
python-gofer-qpid-2.12.5-3.el7.noarch
python-pulp-bindings-2.21.5-1.el7.noarch
python-pulp-client-lib-2.21.5-1.el7.noarch
python-pulp-common-2.21.5-1.el7.noarch
python-pulp-deb-common-1.10.2-1.el7.noarch
python-pulp-docker-common-3.2.9-1.el7.noarch
python-pulp-oid_validation-2.21.5-1.el7.noarch
python-pulp-puppet-common-2.21.5-1.el7.noarch
python-pulp-repoauth-2.21.5-1.el7.noarch
python-pulp-rpm-common-2.21.5-1.el7.noarch
python-pulp-streamer-2.21.5-1.el7.noarch
python2-qpid-1.37.0-5.el7.noarch
python2-qpid-proton-0.34.0-2.el7.x86_64
python2-qpid-qmf-1.39.0-1.el7.x86_64
python3-pulp-2to3-migration-0.12.0-1.el7.noarch
python3-pulp-ansible-0.9.0-1.el7.noarch
python3-pulp-certguard-1.4.0-1.el7.noarch
python3-pulp-container-2.8.1-0.1.el7.noarch
python3-pulp-deb-2.14.1-1.el7.noarch
python3-pulp-file-1.8.2-1.el7.noarch
python3-pulp-rpm-3.14.5-1.el7.noarch
python3-pulpcore-3.14.7-1.el7.noarch
python36-qpid-proton-0.35.0-1.el7.x86_64
qpid-cpp-client-1.39.0-1.el7.x86_64
qpid-cpp-client-devel-1.39.0-1.el7.x86_64
qpid-cpp-server-1.39.0-1.el7.x86_64
qpid-cpp-server-linearstore-1.39.0-1.el7.x86_64
qpid-dispatch-router-1.17.0-1.el7.x86_64
qpid-proton-c-0.35.0-1.el7.x86_64
qpid-qmf-1.39.0-1.el7.x86_64
qpid-tools-1.39.0-1.el7.noarch
qpid_router_katello_agent-qpid-router-client-1.0-1.noarch
rubygem-foreman_maintain-0.8.10-1.el7.noarch
tfm-ror51-rubygem-actioncable-5.1.6-1.el7.centos.noarch
tfm-ror51-rubygem-actionmailer-5.1.6-1.el7.centos.noarch
tfm-ror51-rubygem-actionpack-5.1.6-1.el7.centos.noarch
tfm-ror51-rubygem-actionview-5.1.6-1.el7.centos.noarch
tfm-ror51-rubygem-activejob-5.1.6-1.el7.centos.noarch
tfm-ror51-rubygem-activemodel-5.1.6-1.el7.centos.noarch
tfm-ror51-rubygem-activerecord-5.1.6-1.el7.centos.noarch
tfm-ror51-rubygem-activesupport-5.1.6-1.el7.centos.noarch
tfm-ror51-rubygem-arel-8.0.0-2.el7.centos.noarch
tfm-ror51-rubygem-builder-3.2.3-2.el7.centos.noarch
tfm-ror51-rubygem-coffee-rails-4.2.2-2.el7.centos.noarch
tfm-ror51-rubygem-coffee-script-2.4.1-2.el7.centos.noarch
tfm-ror51-rubygem-coffee-script-source-1.12.2-2.el7.centos.noarch
tfm-ror51-rubygem-concurrent-ruby-1.0.5-4.el7.centos.noarch
tfm-ror51-rubygem-crass-1.0.2-2.el7.centos.noarch
tfm-ror51-rubygem-erubi-1.7.0-2.el7.centos.noarch
tfm-ror51-rubygem-execjs-2.7.0-2.el7.centos.noarch
tfm-ror51-rubygem-globalid-0.4.1-2.el7.centos.noarch
tfm-ror51-rubygem-i18n-0.9.1-3.el7.centos.noarch
tfm-ror51-rubygem-loofah-2.1.1-3.el7.centos.noarch
tfm-ror51-rubygem-mail-2.7.0-3.el7.centos.noarch
tfm-ror51-rubygem-method_source-0.9.0-2.el7.centos.noarch
tfm-ror51-rubygem-mime-types-3.1-2.el7.centos.noarch
tfm-ror51-rubygem-mime-types-data-3.2016.0521-2.el7.centos.noarch
tfm-ror51-rubygem-mini_mime-1.0.0-2.el7.centos.noarch
tfm-ror51-rubygem-multi_json-1.12.2-2.el7.centos.noarch
tfm-ror51-rubygem-mustermann-1.0.1-2.el7.centos.noarch
tfm-ror51-rubygem-nio4r-2.1.0-2.el7.centos.x86_64
tfm-ror51-rubygem-nokogiri-1.8.1-2.el7.centos.x86_64
tfm-ror51-rubygem-rack-2.0.3-2.el7.centos.noarch
tfm-ror51-rubygem-rack-protection-2.0.0-2.el7.centos.noarch
tfm-ror51-rubygem-rack-test-0.7.0-2.el7.centos.noarch
tfm-ror51-rubygem-rails-5.1.6-1.el7.centos.noarch
tfm-ror51-rubygem-rails-dom-testing-2.0.3-2.el7.centos.noarch
tfm-ror51-rubygem-rails-html-sanitizer-1.0.3-3.el7.centos.noarch
tfm-ror51-rubygem-railties-5.1.6-1.el7.centos.noarch
tfm-ror51-rubygem-sinatra-2.0.0-2.el7.centos.noarch
tfm-ror51-rubygem-sprockets-3.7.1-2.el7.centos.noarch
tfm-ror51-rubygem-sprockets-rails-3.2.1-2.el7.centos.noarch
tfm-ror51-rubygem-sqlite3-1.3.13-2.el7.centos.x86_64
tfm-ror51-rubygem-thor-0.20.0-2.el7.centos.noarch
tfm-ror51-rubygem-thread_safe-0.3.6-2.el7.centos.noarch
tfm-ror51-rubygem-tilt-2.0.8-2.el7.centos.noarch
tfm-ror51-rubygem-turbolinks-2.5.4-2.el7.centos.noarch
tfm-ror51-rubygem-tzinfo-1.2.4-3.el7.centos.noarch
tfm-ror51-rubygem-websocket-driver-0.6.5-3.el7.centos.x86_64
tfm-ror51-rubygem-websocket-extensions-0.1.2-2.el7.centos.noarch
tfm-ror51-runtime-1.1-2.el7.centos.x86_64
tfm-rubygem-actioncable-6.0.3.7-1.el7.noarch
tfm-rubygem-actionmailbox-6.0.3.7-1.el7.noarch
tfm-rubygem-actionmailer-6.0.3.7-1.el7.noarch
tfm-rubygem-actionpack-6.0.3.7-1.el7.noarch
tfm-rubygem-actiontext-6.0.3.7-1.el7.noarch
tfm-rubygem-actionview-6.0.3.7-1.el7.noarch
tfm-rubygem-activejob-6.0.3.7-1.el7.noarch
tfm-rubygem-activemodel-6.0.3.7-1.el7.noarch
tfm-rubygem-activerecord-6.0.3.7-1.el7.noarch
tfm-rubygem-activerecord-import-1.1.0-1.el7.noarch
tfm-rubygem-activerecord-session_store-2.0.0-1.el7.noarch
tfm-rubygem-activestorage-6.0.3.7-1.el7.noarch
tfm-rubygem-activesupport-6.0.3.7-1.el7.noarch
tfm-rubygem-addressable-2.8.0-1.el7.noarch
tfm-rubygem-algebrick-0.7.3-8.el7.noarch
tfm-rubygem-amazing_print-1.1.0-2.el7.noarch
tfm-rubygem-ancestry-3.0.7-2.el7.noarch
tfm-rubygem-anemone-0.7.2-23.el7.noarch
tfm-rubygem-angular-rails-templates-1.1.0-2.el7.noarch
tfm-rubygem-ansi-1.5.0-3.el7.noarch
tfm-rubygem-apipie-bindings-0.4.0-2.el7.noarch
tfm-rubygem-apipie-dsl-2.4.0-1.el7.noarch
tfm-rubygem-apipie-params-0.0.5-5.el7.noarch
tfm-rubygem-apipie-rails-0.5.17-4.el7.noarch
tfm-rubygem-audited-4.9.0-4.el7.noarch
tfm-rubygem-awesome_print-1.8.0-6.el7.noarch
tfm-rubygem-bcrypt-3.1.12-4.el7.x86_64
tfm-rubygem-bcrypt_pbkdf-1.1.0-1.el7.x86_64
tfm-rubygem-builder-3.2.4-2.el7.noarch
tfm-rubygem-bundler_ext-0.4.1-6.el7.noarch
tfm-rubygem-clamp-1.1.2-7.el7.noarch
tfm-rubygem-coffee-rails-5.0.0-2.el7.noarch
tfm-rubygem-coffee-script-2.4.1-5.el7.noarch
tfm-rubygem-coffee-script-source-1.12.2-5.el7.noarch
tfm-rubygem-colorize-0.8.1-2.el7.noarch
tfm-rubygem-concurrent-ruby-1.1.6-3.el7.noarch
tfm-rubygem-concurrent-ruby-edge-0.6.0-3.fm2_5.el7.noarch
tfm-rubygem-connection_pool-2.2.2-3.el7.noarch
tfm-rubygem-crass-1.0.6-2.el7.noarch
tfm-rubygem-css_parser-1.4.7-5.el7.noarch
tfm-rubygem-daemons-1.2.3-7.el7.noarch
tfm-rubygem-deacon-1.0.0-5.el7.noarch
tfm-rubygem-declarative-0.0.10-3.el7.noarch
tfm-rubygem-declarative-option-0.1.0-3.el7.noarch
tfm-rubygem-deep_cloneable-3.0.0-4.el7.noarch
tfm-rubygem-deface-1.5.3-3.el7.noarch
tfm-rubygem-domain_name-0.5.20160310-5.el7.noarch
tfm-rubygem-dynflow-1.5.0-1.fm2_6.el7.noarch
tfm-rubygem-ed25519-1.2.4-1.el7.x86_64
tfm-rubygem-erubi-1.9.0-2.el7.noarch
tfm-rubygem-ethon-0.12.0-2.el7.noarch
tfm-rubygem-excon-0.76.0-2.el7.noarch
tfm-rubygem-execjs-2.7.0-5.el7.noarch
tfm-rubygem-facter-4.0.51-2.el7.x86_64
tfm-rubygem-faraday-0.17.3-2.el7.noarch
tfm-rubygem-fast_gettext-1.4.1-5.el7.noarch
tfm-rubygem-ffi-1.12.2-2.el7.x86_64
tfm-rubygem-fog-aws-3.6.5-2.el7.noarch
tfm-rubygem-fog-core-2.1.0-4.el7.noarch
tfm-rubygem-fog-digitalocean-0.4.0-3.el7.noarch
tfm-rubygem-fog-google-1.11.0-2.el7.noarch
tfm-rubygem-fog-json-1.2.0-4.el7.noarch
tfm-rubygem-fog-openstack-1.0.8-4.el7.noarch
tfm-rubygem-fog-ovirt-2.0.1-2.el7.noarch
tfm-rubygem-fog-vsphere-3.5.0-2.el7.noarch
tfm-rubygem-fog-xenserver-1.0.0-3.el7.noarch
tfm-rubygem-fog-xml-0.1.2-9.el7.noarch
tfm-rubygem-foreman-tasks-5.1.0-1.fm3_0.el7.noarch
tfm-rubygem-foreman-tasks-core-0.3.6-1.fm2_5.el7.noarch
tfm-rubygem-foreman_bootdisk-18.0.0-1.fm3_0.el7.noarch
tfm-rubygem-foreman_discovery-18.0.0-1.fm3_0.el7.noarch
tfm-rubygem-foreman_docker-5.0.0-3.fm2_1.el7.noarch
tfm-rubygem-foreman_openscap-5.0.0-1.fm3_0.el7.noarch
tfm-rubygem-foreman_puppet-1.0.3-1.fm3_0.el7.noarch
tfm-rubygem-foreman_remote_execution-4.7.0-1.fm3_0.el7.noarch
tfm-rubygem-foreman_remote_execution_core-1.4.8-1.el7.noarch
tfm-rubygem-formatador-0.2.1-13.el7.noarch
tfm-rubygem-friendly_id-5.3.0-2.el7.noarch
tfm-rubygem-fx-0.5.0-2.el7.noarch
tfm-rubygem-get_process_mem-0.2.7-2.el7.noarch
tfm-rubygem-gettext_i18n_rails-1.8.0-3.el7.noarch
tfm-rubygem-gitlab-sidekiq-fetcher-0.6.0-2.el7.noarch
tfm-rubygem-globalid-0.4.2-2.el7.noarch
tfm-rubygem-google-api-client-0.33.2-2.el7.noarch
tfm-rubygem-google-cloud-env-1.3.3-2.el7.noarch
tfm-rubygem-googleauth-0.13.1-2.el7.noarch
tfm-rubygem-graphql-1.8.14-3.el7.noarch
tfm-rubygem-graphql-batch-0.3.10-3.el7.noarch
tfm-rubygem-gssapi-1.2.0-8.el7.noarch
tfm-rubygem-hammer_cli-3.0.0-1.el7.noarch
tfm-rubygem-hammer_cli_csv-2.3.1-3.el7.noarch
tfm-rubygem-hammer_cli_foreman-3.0.0-1.el7.noarch
tfm-rubygem-hammer_cli_foreman_bootdisk-0.3.0-2.el7.noarch
tfm-rubygem-hammer_cli_foreman_puppet-0.0.3-1.fm3_0.el7.noarch
tfm-rubygem-hammer_cli_foreman_remote_execution-0.2.2-1.fm3_0.el7.noarch
tfm-rubygem-hammer_cli_foreman_tasks-0.0.16-1.fm3_0.el7.noarch
tfm-rubygem-hammer_cli_katello-1.1.2-1.el7.noarch
tfm-rubygem-hashie-3.6.0-3.el7.noarch
tfm-rubygem-highline-2.0.3-2.el7.noarch
tfm-rubygem-hocon-1.3.1-2.el7.noarch
tfm-rubygem-http-cookie-1.0.2-5.el7.noarch
tfm-rubygem-httpclient-2.8.3-4.el7.noarch
tfm-rubygem-i18n-1.8.2-2.el7.noarch
tfm-rubygem-ipaddress-0.8.0-13.el7.noarch
tfm-rubygem-jquery-ui-rails-6.0.1-2.el7.noarch
tfm-rubygem-jwt-2.2.2-2.el7.noarch
tfm-rubygem-kafo-6.4.0-1.el7.noarch
tfm-rubygem-kafo_parsers-1.2.1-1.el7.noarch
tfm-rubygem-kafo_wizards-0.0.2-2.el7.noarch
tfm-rubygem-katello-4.2.0.1-1.el7.noarch
tfm-rubygem-ldap_fluff-0.6.0-1.el7.noarch
tfm-rubygem-little-plugger-1.1.4-3.el7.noarch
tfm-rubygem-locale-2.0.9-15.el7.noarch
tfm-rubygem-logging-2.3.0-2.el7.noarch
tfm-rubygem-loofah-2.4.0-2.el7.noarch
tfm-rubygem-mail-2.7.1-2.el7.noarch
tfm-rubygem-marcel-1.0.1-1.el7.noarch
tfm-rubygem-memoist-0.16.0-3.el7.noarch
tfm-rubygem-method_source-0.9.2-3.el7.noarch
tfm-rubygem-mime-types-3.3.1-2.el7.noarch
tfm-rubygem-mime-types-data-3.2018.0812-5.el7.noarch
tfm-rubygem-mini_mime-1.0.2-2.el7.noarch
tfm-rubygem-mini_portile2-2.5.1-1.el7.noarch
tfm-rubygem-multi_json-1.14.1-3.el7.noarch
tfm-rubygem-multipart-post-2.0.0-3.el7.noarch
tfm-rubygem-mustermann-1.1.1-1.el7.noarch
tfm-rubygem-net-ldap-0.17.0-2.el7.noarch
tfm-rubygem-net-ping-2.0.1-5.el7.noarch
tfm-rubygem-net-scp-1.2.1-5.el7.noarch
tfm-rubygem-net-ssh-4.2.0-3.el7.noarch
tfm-rubygem-net_http_unix-0.2.2-2.el7.noarch
tfm-rubygem-netrc-0.11.0-6.el7.noarch
tfm-rubygem-nio4r-2.5.4-2.el7.x86_64
tfm-rubygem-nokogiri-1.11.3-2.el7.x86_64
tfm-rubygem-oauth-0.5.4-5.el7.noarch
tfm-rubygem-optimist-3.0.0-3.el7.noarch
tfm-rubygem-os-1.0.0-3.el7.noarch
tfm-rubygem-ovirt-engine-sdk-4.4.0-2.el7.x86_64
tfm-rubygem-parallel-1.19.1-2.el7.noarch
tfm-rubygem-parse-cron-0.1.4-5.fm2_5.el7.noarch
tfm-rubygem-pg-1.1.4-4.el7.x86_64
tfm-rubygem-polyglot-0.3.5-3.el7.noarch
tfm-rubygem-powerbar-2.0.1-3.el7.noarch
tfm-rubygem-promise.rb-0.7.4-3.el7.noarch
tfm-rubygem-public_suffix-3.0.3-3.el7.noarch
tfm-rubygem-pulp_ansible_client-0.8.0-1.el7.noarch
tfm-rubygem-pulp_certguard_client-1.4.0-1.el7.noarch
tfm-rubygem-pulp_container_client-2.7.0-1.el7.noarch
tfm-rubygem-pulp_deb_client-2.13.0-1.el7.noarch
tfm-rubygem-pulp_docker_client-4.0.0b6.dev01562331743-1.el7.noarch
tfm-rubygem-pulp_file_client-1.8.1-1.el7.noarch
tfm-rubygem-pulp_python_client-3.4.0-1.el7.noarch
tfm-rubygem-pulp_rpm_client-3.13.3-1.el7.noarch
tfm-rubygem-pulpcore_client-3.14.1-1.el7.noarch
tfm-rubygem-puma-5.3.2-1.el7.x86_64
tfm-rubygem-puma-status-1.3-1.el7.noarch
tfm-rubygem-qpid_messaging-1.38.0-1.el7.x86_64
tfm-rubygem-qpid_proton-0.35.0-1.el7.x86_64
tfm-rubygem-rabl-0.14.3-2.el7.noarch
tfm-rubygem-racc-1.5.2-1.el7.x86_64
tfm-rubygem-rack-2.2.3-2.el7.noarch
tfm-rubygem-rack-cors-1.0.2-3.el7.noarch
tfm-rubygem-rack-jsonp-1.3.1-10.el7.noarch
tfm-rubygem-rack-protection-2.1.0-2.el7.noarch
tfm-rubygem-rack-test-1.1.0-5.el7.noarch
tfm-rubygem-rails-6.0.3.7-1.el7.noarch
tfm-rubygem-rails-dom-testing-2.0.3-7.el7.noarch
tfm-rubygem-rails-html-sanitizer-1.3.0-2.el7.noarch
tfm-rubygem-rails-i18n-6.0.0-3.el7.noarch
tfm-rubygem-railties-6.0.3.7-1.el7.noarch
tfm-rubygem-rainbow-2.2.2-1.el7.noarch
tfm-rubygem-rake-compiler-1.0.7-4.el7.noarch
tfm-rubygem-rb-inotify-0.9.7-6.el7.noarch
tfm-rubygem-rbvmomi-2.2.0-4.el7.noarch
tfm-rubygem-record_tag_helper-1.0.1-4.el7.noarch
tfm-rubygem-redfish_client-0.5.2-2.el7.noarch
tfm-rubygem-redis-4.1.2-3.el7.noarch
tfm-rubygem-representable-3.0.4-3.el7.noarch
tfm-rubygem-responders-3.0.0-4.el7.noarch
tfm-rubygem-rest-client-2.0.2-4.el7.noarch
tfm-rubygem-retriable-3.1.2-3.el7.noarch
tfm-rubygem-rkerberos-0.1.5-20.el7.x86_64
tfm-rubygem-roadie-3.4.0-4.el7.noarch
tfm-rubygem-roadie-rails-2.1.1-3.el7.noarch
tfm-rubygem-robotex-1.0.0-22.el7.noarch
tfm-rubygem-rsec-0.4.3-5.el7.noarch
tfm-rubygem-ruby-libvirt-0.7.1-2.el7.x86_64
tfm-rubygem-ruby2_keywords-0.0.4-1.el7.noarch
tfm-rubygem-ruby2ruby-2.4.2-4.el7.noarch
tfm-rubygem-ruby_parser-3.10.1-4.el7.noarch
tfm-rubygem-rubyipmi-0.10.0-7.el7.noarch
tfm-rubygem-runcible-2.13.1-2.el7.noarch
tfm-rubygem-safemode-1.3.6-2.el7.noarch
tfm-rubygem-scoped_search-4.1.9-2.el7.noarch
tfm-rubygem-sd_notify-0.1.0-2.el7.noarch
tfm-rubygem-secure_headers-6.3.0-3.el7.noarch
tfm-rubygem-sequel-5.42.0-2.el7.noarch
tfm-rubygem-server_sent_events-0.1.2-2.el7.noarch
tfm-rubygem-sexp_processor-4.10.0-7.el7.noarch
tfm-rubygem-sidekiq-5.2.7-4.el7.noarch
tfm-rubygem-signet-0.14.0-2.el7.noarch
tfm-rubygem-sinatra-2.1.0-2.el7.noarch
tfm-rubygem-smart_proxy_discovery_image-1.3.2-2.fm2_5.el7.noarch
tfm-rubygem-smart_proxy_dynflow-0.5.2-2.fm2_6.el7.noarch
tfm-rubygem-smart_proxy_dynflow_core-0.4.1-1.fm2_6.el7.noarch
tfm-rubygem-smart_proxy_pulp-3.1.0-1.fm2_6.el7.noarch
tfm-rubygem-smart_proxy_remote_execution_ssh-0.4.1-2.fm2_6.el7.noarch
tfm-rubygem-sprockets-4.0.2-2.el7.noarch
tfm-rubygem-sprockets-rails-3.2.1-7.el7.noarch
tfm-rubygem-sqlite3-1.3.13-7.el7.x86_64
tfm-rubygem-sshkey-1.9.0-5.el7.noarch
tfm-rubygem-statsd-instrument-2.1.4-4.el7.noarch
tfm-rubygem-stomp-1.4.9-2.el7.noarch
tfm-rubygem-thor-1.0.1-3.el7.noarch
tfm-rubygem-thread_safe-0.3.6-6.el7.noarch
tfm-rubygem-tilt-2.0.8-5.el7.noarch
tfm-rubygem-trollop-2.1.2-3.el7.noarch
tfm-rubygem-typhoeus-1.3.1-2.el7.noarch
tfm-rubygem-tzinfo-1.2.6-2.el7.noarch
tfm-rubygem-uber-0.1.0-3.el7.noarch
tfm-rubygem-unf-0.1.3-9.el7.noarch
tfm-rubygem-unf_ext-0.0.7.2-4.el7.x86_64
tfm-rubygem-unicode-0.4.4.4-4.el7.x86_64
tfm-rubygem-unicode-display_width-1.7.0-2.el7.noarch
tfm-rubygem-useragent-0.16.8-5.el7.noarch
tfm-rubygem-validates_lengths_from_database-0.5.0-8.el7.noarch
tfm-rubygem-webpack-rails-0.9.8-6.el7.noarch
tfm-rubygem-websocket-driver-0.7.1-2.el7.x86_64
tfm-rubygem-websocket-extensions-0.1.5-2.el7.noarch
tfm-rubygem-wicked-1.3.3-3.el7.noarch
tfm-rubygem-will_paginate-3.1.7-4.el7.noarch
tfm-rubygem-xmlrpc-0.3.0-3.el7.noarch
tfm-rubygem-zeitwerk-2.2.2-2.el7.noarch
tfm-runtime-7.0-4.el7.x86_64
Distribution and version:
CentOS 7.9
Other relevant data:
The following error occurs in foreman production.log:
2021-10-18T14:20:57 [I|bac|6940cb1a] Task {label: Actions::Katello::Repository::Sync, id: 84f11148-9969-48f1-b750-a16cb95981df, execution_plan_id: 06ca5d6f-9e14-4ba0-b729-3d8d5213f97b} state changed: stopped result: error
2021-10-18T14:20:57 [E|app|6940cb1a] NoMethodError: undefined method pulp3_skip_publication' for nil:NilClass 6940cb1a | /opt/theforeman/tfm/root/usr/share/gems/gems/katello-4.2.0.1/app/lib/actions/pulp3/orchestration/repository/generate_metadata.rb:8:in plan'
6940cb1a | /opt/theforeman/tfm/root/usr/share/gems/gems/dynflow-1.5.0/lib/dynflow/action.rb:515:in block (3 levels) in execute_plan' 6940cb1a | /opt/theforeman/tfm/root/usr/share/gems/gems/dynflow-1.5.0/lib/dynflow/middleware/stack.rb:27:in pass'