Hello,
Problem:
On the Satellite, I created a CV with the repositories without filter to be able to distribute on the disconnected Katello in order to be able to publish CV with filters on the Katello.
I use the export method by making the repository available in /var/www/html/pub/cdn
I changed the location of the CDN by pointing the connected satellite and the synchronization works fine.
I took a repo Red Hat Enterprise Linux 8 for x86_64 - BaseOS RPMs 8 (without filter) and has :
9904 packages
1174 error
On Katello, creating the CV with the filter below: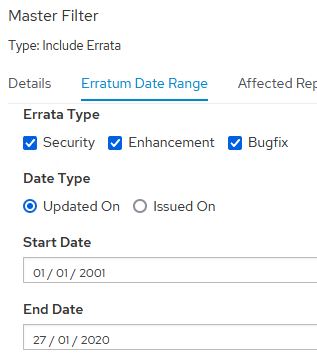 Unfortunately after publication, Foreman/Katello did not take my filter into account because there are 1174 errata and I see errata after January 27, 2020
But by creating the CV with the same filter on the Satellite 6.8:
1723 packages
250 Errata (42/170/38)
If I added the extra filter to include rpm packages without errata, on Katello I have the entire repo despite the presence of the filters. These filters were not respected.
Expected outcome:
CV created on Katello must have the same counter as on Satellite.
Foreman and Proxy versions:
Foreman and Proxy versions : 2.5.4-1.el8
Katello version : 4.1.4-1.el8
Foreman and Proxy plugin versions:
Foreman and Proxy versions : 2.5.4-1.el8
Katello version : 4.1.4-1.el8
Distribution and version:
Red Hat Enterprise Linux release 8.5 (Ootpa)