Hi all,
We have foreman 1.16 with katello 3.5 to manage centos7 machines and this is working fine.
We would like to register in foreman/katello any device with an ip in our network. We would like that any dhcp and dns entry is created with foreman so we can automate the addition/deletion of ips to the network and we can use the foreman db as our main inventory. This way we can query the registered/available dhcp and dns entries in our network and automate the addition and deletion of new hosts to the network. We would like to register not only servers but also switches, routers, ups…etc…anything with an ip.
Adding new servers to foreman and registering the proper dhcp and dns entries for them works perfect but when we try to add e.g. a network switch we have noticed that it's mandatory to define a "lifecycle environment", "content view", "os", "media", "partition table" and other fields which doesn't make sense for a device where I only want to register dhcp and dns entries. See the attached screenshots: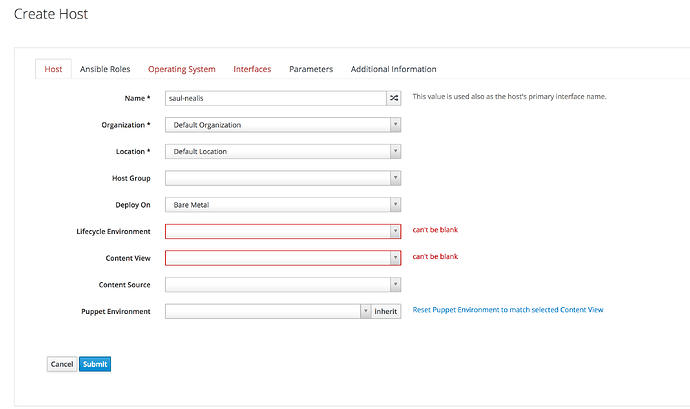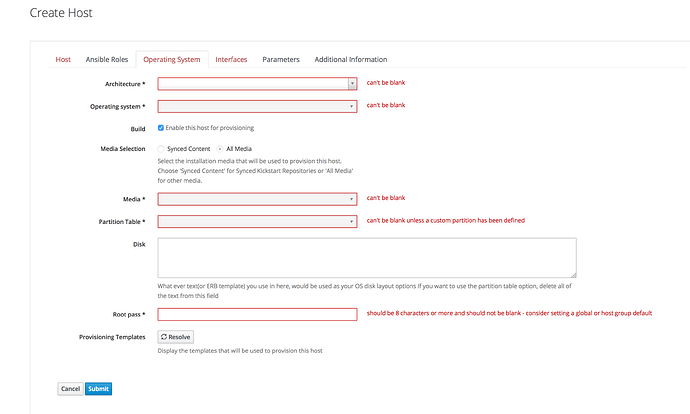 I plan to create "fake groups" named "network devices", "ups devices" and so on with faked CV, OS, partition table etc but before doing it I wanted to ask how others are addressing this in case there is another way to do it that I am missing. I like the idea of having all the inventory centralized in foreman but using "fake groups" doesn't seem too elegant.
Would it make sense to open a feature request for this? Or is this already possible and I am missing it?
Thanks in advance for any help or suggestion.
regards,
Pablo.