Problem: Subscribed hosts are not showing all the repos they should be
Expected outcome: Hosts show the repos that the UI says should be enabled
Foreman and Proxy versions: 3.2.0
Foreman and Proxy plugin versions: 4.4 (Katello)
Distribution and version: CentOS 8 stream
Other relevant data:
Example subscribed system is Elrond, running F36. DNF repolist shows the following:


Meanwhile, these are the repos that should be enabled according to Foreman/Katello (e.g. updates etc):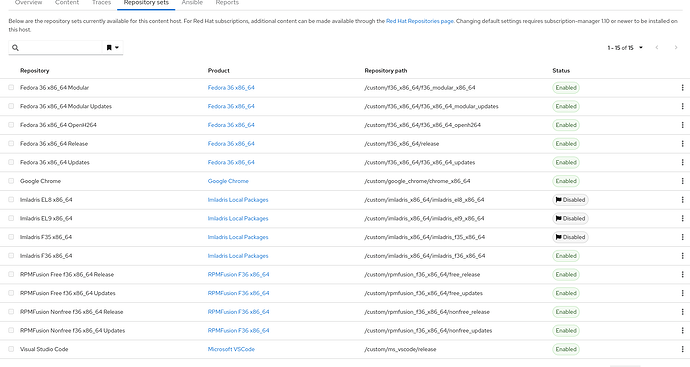 I have CentOS 8 stream systems subscribed as well that are not showing expected repos like EPEL modular or C8s appstream. I have the community repos grouped into products, such that the EPEL8 product contains EPEL release and EPEL modular repos (for example). The other community "products" are set up similarly. An exception to this behavior is on the foreman/katello server itself where the Foreman/Katello product is showing all the repos I'd expect (Foreman, -plugins, Katello, candlepin, pulpcore).
I am using the Ansible modules to manage content etc (theforeman.foreman collection v3.2.0), and recently refreshed some repo definitions after the Fedora 36 release.
What seems to be happening at first glance is that subscription-manager (and redhat.repo etc) are picking the first listed repo from the "subscription". I suspect something in the foreman/katello stack as I am seeing this across F36/CentOS 8 stream systems