Hello all,
I've been working on coming up with a plan for a migration to Pulp 3 in Katello and have been working with the pulp team to identify gaps that need to be filled.
You can find a list of those initial integration gaps here: Issues - Pulp
The current state of the pulp beta:
supports the following content types:

file
ansible (unused currently by katello)
python (unused currently by katello)

Currently has no rpm packaging
introduces many new concepts, I would recommend familiarizing yourself with new terms https://docs.pulpproject.org/en/3.0/nightly/overview/index.html
Is postgresql based
After some discussion, we arrived at a preferred migration strategy:
. * Require running pulp 2 and pulp 3 together for some period of time (2-3 releases potentially)
Start with a migration of the file content type and then migrate further types as they are available
once all types are migrated, drop pulp 2
Pre-requisites:
Before Pulp 3 can be utilized for any content types, we must:
Migrate sync plans to dynflow (in progress)
Before Pulp 2 can be fully removed we must:
Ensure there is a replacement for goferd-based actions
The general migration path would look like: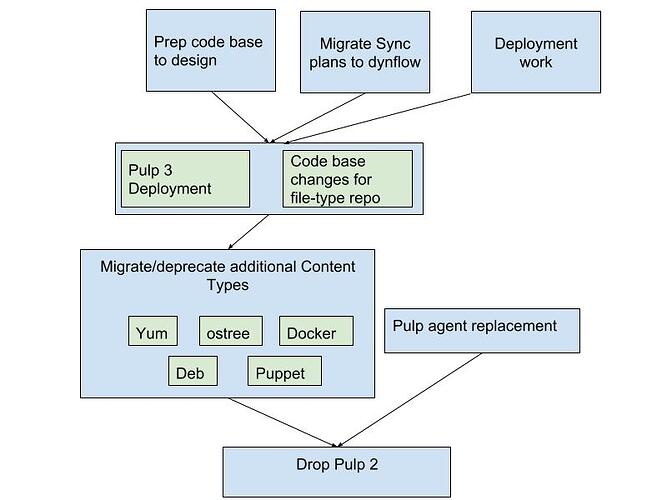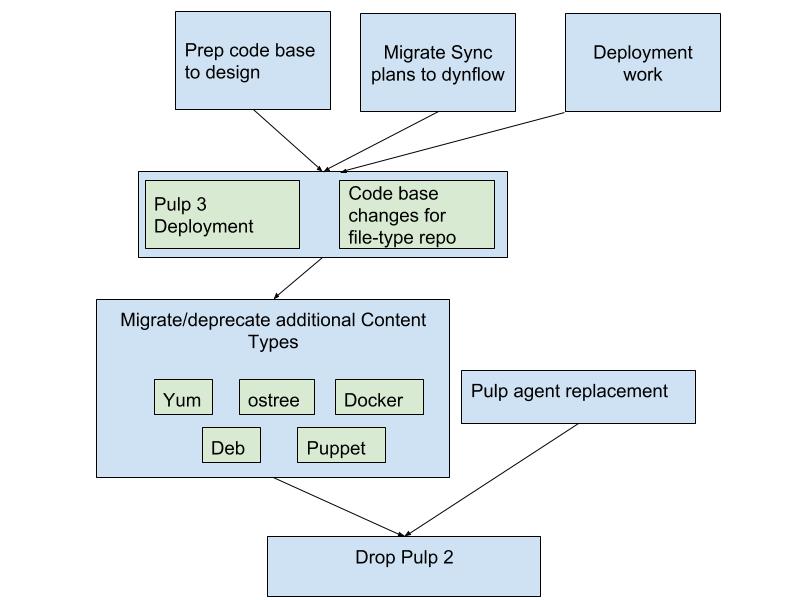 Technical Details can be found here: Pulp 3 Migration Technical Details - Google Docs
I would like to keep general 'migration' discussion here, but any technical discussion should go in the google doc.
Justin