Problem:
I cannot provision a discovered machine
Foreman and Proxy versions:
3.2.0 both
Foreman and Proxy plugin versions:
foreman_dhcp_browser   0.0.8
foreman_discovery      20.0.1
foreman_puppet         3.0.5 
foreman_setup          8.0.1

Distribution and version:
Ubuntu 20.04 LTS
Other relevant data:
We have a network with some hosts discovered. We try to provision them through the GUI but when the smart proxy tries to retrieve dhcp information from infoblox (where we have ipam, dhcp and dns) it fails with the error "wrong number of arguments".
I think it is doing the wrong api call. He send a GET request to the endpoint "/dhcp/:network/ip/:host_address/", but according to the proxy API documentation, this endpoint is for a DELETE request. The good one should be "/dhcp/:network/:host_address/".
I tried with postman a GET request to those two endpoints: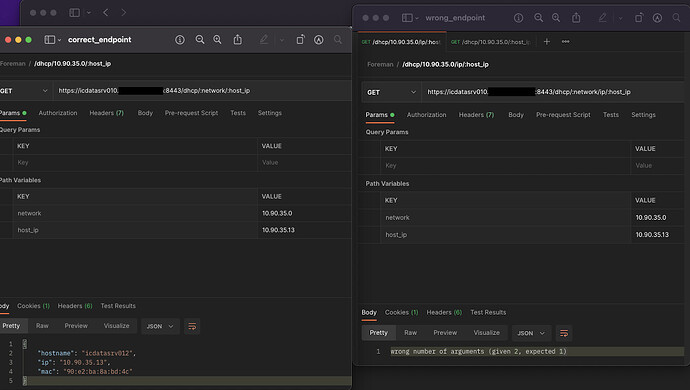 I attach also and example of attempt to provision one of the discovered machines.
2022-04-13T09:21:28 [I|app|df8a38c8] Started PATCH "/discovered_hosts/17" for 128.178.116.73 at 2022-04-13 09:21:28 +0200
2022-04-13T09:21:28 [I|app|df8a38c8] Processing by DiscoveredHostsController#update as */*
2022-04-13T09:21:28 [I|app|df8a38c8]   Parameters: {"utf8"=>"✓", "authenticity_token"=>"udsBf9haDB528Gvu//6CZuaCDQyo3lCNL5Qq7zPbhRe1izEkigOxyCWRtvt3nj6VvSQD/HSBtmyV3mPoz06W6A==", "host"=>{"name"=>"host-icdatasrv012", "organization_id"=>"1", "location_id"=>"2", "hostgroup_id"=>"1", "puppetclass_ids"=>[""], "managed"=>"true", "progress_report_id"=>"[FILTERED]", "type"=>"Host::Managed", "interfaces_attributes"=>{"0"=>{"_destroy"=>"0", "mac"=>"90:e2:ba:8a:bd:4c", "identifier"=>"enp130s0f0", "name"=>"host-icdatasrv012", "domain_id"=>"1", "subnet_id"=>"1", "ip"=>"10.90.35.13", "ip6"=>"", "managed"=>"1", "primary"=>"1", "provision"=>"1", "tag"=>"", "attached_to"=>"", "id"=>"42"}, "1"=>{"_destroy"=>"0", "mac"=>"90:e2:ba:8a:bd:4d", "identifier"=>"enp130s0f1", "name"=>"", "domain_id"=>"", "subnet_id"=>"", "ip"=>"", "ip6"=>"", "managed"=>"0", "primary"=>"0", "provision"=>"0", "tag"=>"", "attached_to"=>"", "id"=>"43"}, "2"=>{"_destroy"=>"0", "mac"=>"00:1e:67:a0:54:21", "identifier"=>"ipmi", "name"=>"", "domain_id"=>"", "subnet_id"=>"", "ip"=>"10.90.66.113", "ip6"=>"", "managed"=>"0", "primary"=>"0", "provision"=>"0", "username"=>"", "provider"=>"IPMI", "id"=>"44"}}, "architecture_id"=>"1", "operatingsystem_id"=>"1", "build"=>"1", "medium_id"=>"9", "ptable_id"=>"132", "pxe_loader"=>"PXELinux BIOS", "disk"=>"", "is_owned_by"=>"", "enabled"=>"1", "model_id"=>"1", "comment"=>"", "overwrite"=>"false"}, "fakepassword"=>"[FILTERED]", "id"=>"17"}
2022-04-13T09:21:29 [W|api|df8a38c8] param discovered_host[puppetclass_*] has been deprecated in favor of discovered_host[puppet_attributes][puppetclass_*]
2022-04-13T09:21:30 [W|app|df8a38c8] Using TFTP Smart Proxy hostname as the boot server name: icdatasrv010.*********DOMAIN********
2022-04-13T09:21:30 [W|app|df8a38c8] DHCP proxy does not report dhcp_filename_ipv4 or dhcp_filename_hostname capability. Foreman will pass boot server icdatasrv010.*********DOMAIN******** as-is, the request might fail.
2022-04-13T09:21:30 [W|app|df8a38c8] Using TFTP Smart Proxy hostname as the boot server name: icdatasrv010.*********DOMAIN********
2022-04-13T09:21:31 [W|app|df8a38c8] ProxyAPI operation FAILED
2022-04-13T09:21:31 [I|app|df8a38c8] Backtrace for 'ProxyAPI operation FAILED' error (ProxyAPI::ProxyException): ERF12-4395 [ProxyAPI::ProxyException]: Unable to retrieve DHCP entry for 10.90.35.13 ([RestClient::BadRequest]: 400 Bad Request) for proxy https://icdatasrv010.*********DOMAIN********:8443/dhcp
 df8a38c8 | /usr/share/foreman/app/services/proxy_api/dhcp.rb:76:in `rescue in records_by_ip'
 df8a38c8 | /usr/share/foreman/app/services/proxy_api/dhcp.rb:63:in `records_by_ip'
 df8a38c8 | /usr/share/foreman/lib/net/dhcp/record.rb:58:in `conflicts'
 df8a38c8 | /usr/share/foreman/lib/net.rb:23:in `conflicting?'
 df8a38c8 | /usr/share/foreman/app/models/concerns/orchestration/dhcp.rb:207:in `block in dhcp_conflict_detected?'
 df8a38c8 | /usr/share/foreman/app/models/concerns/orchestration/dhcp.rb:207:in `any?'
 df8a38c8 | /usr/share/foreman/app/models/concerns/orchestration/dhcp.rb:207:in `dhcp_conflict_detected?'
 df8a38c8 | /usr/share/foreman/vendor/ruby/2.7.0/gems/activesupport-6.0.3.7/lib/active_support/callbacks.rb:428:in `block in make_lambda'
 df8a38c8 | /usr/share/foreman/vendor/ruby/2.7.0/gems/activesupport-6.0.3.7/lib/active_support/callbacks.rb:238:in `block in halting_and_conditional'
 df8a38c8 | /usr/share/foreman/vendor/ruby/2.7.0/gems/activesupport-6.0.3.7/lib/active_support/callbacks.rb:517:in `block in invoke_after'
 df8a38c8 | /usr/share/foreman/vendor/ruby/2.7.0/gems/activesupport-6.0.3.7/lib/active_support/callbacks.rb:517:in `each'
 df8a38c8 | /usr/share/foreman/vendor/ruby/2.7.0/gems/activesupport-6.0.3.7/lib/active_support/callbacks.rb:517:in `invoke_after'
 df8a38c8 | /usr/share/foreman/vendor/ruby/2.7.0/gems/activesupport-6.0.3.7/lib/active_support/callbacks.rb:136:in `run_callbacks'
 df8a38c8 | /usr/share/foreman/vendor/ruby/2.7.0/gems/activesupport-6.0.3.7/lib/active_support/callbacks.rb:825:in `_run_validation_callbacks'
 df8a38c8 | /usr/share/foreman/vendor/ruby/2.7.0/gems/activemodel-6.0.3.7/lib/active_model/validations/callbacks.rb:117:in `run_validations!'
 df8a38c8 | /usr/share/foreman/vendor/ruby/2.7.0/gems/activemodel-6.0.3.7/lib/active_model/validations.rb:337:in `valid?'
 df8a38c8 | /usr/share/foreman/vendor/ruby/2.7.0/gems/activerecord-6.0.3.7/lib/active_record/validations.rb:68:in `valid?'
 df8a38c8 | /usr/share/foreman/app/models/concerns/orchestration.rb:86:in `valid?'
 df8a38c8 | /usr/share/foreman/vendor/ruby/2.7.0/gems/activerecord-6.0.3.7/lib/active_record/autosave_association.rb:327:in `association_valid?'
 df8a38c8 | /usr/share/foreman/vendor/ruby/2.7.0/gems/activerecord-6.0.3.7/lib/active_record/autosave_association.rb:314:in `block in validate_collection_association'
 df8a38c8 | /usr/share/foreman/vendor/ruby/2.7.0/gems/activerecord-6.0.3.7/lib/active_record/autosave_association.rb:314:in `each'
 df8a38c8 | /usr/share/foreman/vendor/ruby/2.7.0/gems/activerecord-6.0.3.7/lib/active_record/autosave_association.rb:314:in `each_with_index'
 df8a38c8 | /usr/share/foreman/vendor/ruby/2.7.0/gems/activerecord-6.0.3.7/lib/active_record/autosave_association.rb:314:in `validate_collection_association'
 df8a38c8 | /usr/share/foreman/vendor/ruby/2.7.0/gems/activerecord-6.0.3.7/lib/active_record/autosave_association.rb:219:in `block in define_autosave_validation_callbacks'
 df8a38c8 | /usr/share/foreman/vendor/ruby/2.7.0/gems/activerecord-6.0.3.7/lib/active_record/autosave_association.rb:158:in `instance_eval'
 df8a38c8 | /usr/share/foreman/vendor/ruby/2.7.0/gems/activerecord-6.0.3.7/lib/active_record/autosave_association.rb:158:in `block in define_non_cyclic_method'
 df8a38c8 | /usr/share/foreman/vendor/ruby/2.7.0/gems/activesupport-6.0.3.7/lib/active_support/callbacks.rb:428:in `block in make_lambda'
 df8a38c8 | /usr/share/foreman/vendor/ruby/2.7.0/gems/activesupport-6.0.3.7/lib/active_support/callbacks.rb:200:in `block (2 levels) in halting'
 df8a38c8 | /usr/share/foreman/vendor/ruby/2.7.0/gems/activesupport-6.0.3.7/lib/active_support/callbacks.rb:605:in `block (2 levels) in default_terminator'
 df8a38c8 | /usr/share/foreman/vendor/ruby/2.7.0/gems/activesupport-6.0.3.7/lib/active_support/callbacks.rb:604:in `catch'
 df8a38c8 | /usr/share/foreman/vendor/ruby/2.7.0/gems/activesupport-6.0.3.7/lib/active_support/callbacks.rb:604:in `block in default_terminator'
 df8a38c8 | /usr/share/foreman/vendor/ruby/2.7.0/gems/activesupport-6.0.3.7/lib/active_support/callbacks.rb:201:in `block in halting'
 df8a38c8 | /usr/share/foreman/vendor/ruby/2.7.0/gems/activesupport-6.0.3.7/lib/active_support/callbacks.rb:513:in `block in invoke_before'
 df8a38c8 | /usr/share/foreman/vendor/ruby/2.7.0/gems/activesupport-6.0.3.7/lib/active_support/callbacks.rb:513:in `each'
 df8a38c8 | /usr/share/foreman/vendor/ruby/2.7.0/gems/activesupport-6.0.3.7/lib/active_support/callbacks.rb:513:in `invoke_before'
 df8a38c8 | /usr/share/foreman/vendor/ruby/2.7.0/gems/activesupport-6.0.3.7/lib/active_support/callbacks.rb:134:in `run_callbacks'
 df8a38c8 | /usr/share/foreman/vendor/ruby/2.7.0/gems/activesupport-6.0.3.7/lib/active_support/callbacks.rb:825:in `_run_validate_callbacks'
 df8a38c8 | /usr/share/foreman/vendor/ruby/2.7.0/gems/activemodel-6.0.3.7/lib/active_model/validations.rb:406:in `run_validations!'
 df8a38c8 | /usr/share/foreman/vendor/ruby/2.7.0/gems/activemodel-6.0.3.7/lib/active_model/validations/callbacks.rb:117:in `block in run_validations!'
 df8a38c8 | /usr/share/foreman/vendor/ruby/2.7.0/gems/activesupport-6.0.3.7/lib/active_support/callbacks.rb:135:in `run_callbacks'
 df8a38c8 | /usr/share/foreman/vendor/ruby/2.7.0/gems/activesupport-6.0.3.7/lib/active_support/callbacks.rb:825:in `_run_validation_callbacks'
 df8a38c8 | /usr/share/foreman/vendor/ruby/2.7.0/gems/activemodel-6.0.3.7/lib/active_model/validations/callbacks.rb:117:in `run_validations!'
 df8a38c8 | /usr/share/foreman/vendor/ruby/2.7.0/gems/activemodel-6.0.3.7/lib/active_model/validations.rb:337:in `valid?'
 df8a38c8 | /usr/share/foreman/vendor/ruby/2.7.0/gems/activerecord-6.0.3.7/lib/active_record/validations.rb:68:in `valid?'
 df8a38c8 | /usr/share/foreman/app/models/concerns/orchestration.rb:86:in `valid?'
 df8a38c8 | /usr/share/foreman/vendor/ruby/2.7.0/gems/activerecord-6.0.3.7/lib/active_record/validations.rb:84:in `perform_validations'
 df8a38c8 | /usr/share/foreman/vendor/ruby/2.7.0/gems/activerecord-6.0.3.7/lib/active_record/validations.rb:47:in `save'
 df8a38c8 | /usr/share/foreman/vendor/ruby/2.7.0/gems/activerecord-6.0.3.7/lib/active_record/transactions.rb:314:in `block in save'
 df8a38c8 | /usr/share/foreman/vendor/ruby/2.7.0/gems/activerecord-6.0.3.7/lib/active_record/transactions.rb:375:in `block in with_transaction_returning_status'
 df8a38c8 | /usr/share/foreman/vendor/ruby/2.7.0/gems/activerecord-6.0.3.7/lib/active_record/connection_adapters/abstract/database_statements.rb:280:in `block in transaction'
 df8a38c8 | /usr/share/foreman/vendor/ruby/2.7.0/gems/activerecord-6.0.3.7/lib/active_record/connection_adapters/abstract/transaction.rb:280:in `block in within_new_transaction'
 df8a38c8 | /usr/share/foreman/vendor/ruby/2.7.0/gems/activesupport-6.0.3.7/lib/active_support/concurrency/load_interlock_aware_monitor.rb:26:in `block (2 levels) in synchronize'
 df8a38c8 | /usr/share/foreman/vendor/ruby/2.7.0/gems/activesupport-6.0.3.7/lib/active_support/concurrency/load_interlock_aware_monitor.rb:25:in `handle_interrupt'
 df8a38c8 | /usr/share/foreman/vendor/ruby/2.7.0/gems/activesupport-6.0.3.7/lib/active_support/concurrency/load_interlock_aware_monitor.rb:25:in `block in synchronize'
 df8a38c8 | /usr/share/foreman/vendor/ruby/2.7.0/gems/activesupport-6.0.3.7/lib/active_support/concurrency/load_interlock_aware_monitor.rb:21:in `handle_interrupt'
 df8a38c8 | /usr/share/foreman/vendor/ruby/2.7.0/gems/activesupport-6.0.3.7/lib/active_support/concurrency/load_interlock_aware_monitor.rb:21:in `synchronize'
 df8a38c8 | /usr/share/foreman/vendor/ruby/2.7.0/gems/activerecord-6.0.3.7/lib/active_record/connection_adapters/abstract/transaction.rb:278:in `within_new_transaction'
 df8a38c8 | /usr/share/foreman/vendor/ruby/2.7.0/gems/activerecord-6.0.3.7/lib/active_record/connection_adapters/abstract/database_statements.rb:280:in `transaction'
 df8a38c8 | /usr/share/foreman/vendor/ruby/2.7.0/gems/activerecord-6.0.3.7/lib/active_record/transactions.rb:212:in `transaction'
 df8a38c8 | /usr/share/foreman/vendor/ruby/2.7.0/gems/activerecord-6.0.3.7/lib/active_record/transactions.rb:366:in `with_transaction_returning_status'
 df8a38c8 | /usr/share/foreman/vendor/ruby/2.7.0/gems/activerecord-6.0.3.7/lib/active_record/transactions.rb:314:in `save'
 df8a38c8 | /usr/share/foreman/vendor/ruby/2.7.0/gems/activerecord-6.0.3.7/lib/active_record/suppressor.rb:44:in `save'
 df8a38c8 | /usr/share/foreman/app/models/concerns/foreman/sti.rb:26:in `save'
 df8a38c8 | /usr/share/foreman/vendor/ruby/2.7.0/gems/foreman_discovery-20.0.1/app/controllers/discovered_hosts_controller.rb:85:in `block in perform_update'
 df8a38c8 | /usr/share/foreman/app/models/taxonomy.rb:73:in `block in no_taxonomy_scope'
 df8a38c8 | /usr/share/foreman/app/models/taxonomy.rb:80:in `block (2 levels) in as_taxonomy'
 df8a38c8 | /usr/share/foreman/app/models/concerns/foreman/thread_session.rb:195:in `as_location'
 df8a38c8 | /usr/share/foreman/app/models/taxonomy.rb:79:in `block in as_taxonomy'
 df8a38c8 | /usr/share/foreman/app/models/concerns/foreman/thread_session.rb:154:in `as_org'
 df8a38c8 | /usr/share/foreman/app/models/taxonomy.rb:78:in `as_taxonomy'
 df8a38c8 | /usr/share/foreman/app/models/taxonomy.rb:72:in `no_taxonomy_scope'
 df8a38c8 | /usr/share/foreman/vendor/ruby/2.7.0/gems/foreman_discovery-20.0.1/app/controllers/discovered_hosts_controller.rb:82:in `perform_update'
 df8a38c8 | /usr/share/foreman/vendor/ruby/2.7.0/gems/foreman_discovery-20.0.1/app/controllers/discovered_hosts_controller.rb:78:in `update'
 df8a38c8 | /usr/share/foreman/vendor/ruby/2.7.0/gems/actionpack-6.0.3.7/lib/action_controller/metal/basic_implicit_render.rb:6:in `send_action'
 df8a38c8 | /usr/share/foreman/vendor/ruby/2.7.0/gems/actionpack-6.0.3.7/lib/abstract_controller/base.rb:195:in `process_action'
 df8a38c8 | /usr/share/foreman/vendor/ruby/2.7.0/gems/actionpack-6.0.3.7/lib/action_controller/metal/rendering.rb:30:in `process_action'
 df8a38c8 | /usr/share/foreman/vendor/ruby/2.7.0/gems/actionpack-6.0.3.7/lib/abstract_controller/callbacks.rb:42:in `block in process_action'
 df8a38c8 | /usr/share/foreman/vendor/ruby/2.7.0/gems/activesupport-6.0.3.7/lib/active_support/callbacks.rb:112:in `block in run_callbacks'
 df8a38c8 | /usr/share/foreman/app/controllers/concerns/foreman/controller/timezone.rb:10:in `set_timezone'
 df8a38c8 | /usr/share/foreman/vendor/ruby/2.7.0/gems/activesupport-6.0.3.7/lib/active_support/callbacks.rb:121:in `block in run_callbacks'
 df8a38c8 | /usr/share/foreman/app/models/concerns/foreman/thread_session.rb:32:in `clear_thread'
 df8a38c8 | /usr/share/foreman/vendor/ruby/2.7.0/gems/activesupport-6.0.3.7/lib/active_support/callbacks.rb:121:in `block in run_callbacks'
 df8a38c8 | /usr/share/foreman/app/controllers/concerns/foreman/controller/topbar_sweeper.rb:12:in `set_topbar_sweeper_controller'
 df8a38c8 | /usr/share/foreman/vendor/ruby/2.7.0/gems/activesupport-6.0.3.7/lib/active_support/callbacks.rb:121:in `block in run_callbacks'
 df8a38c8 | /usr/share/foreman/vendor/ruby/2.7.0/gems/audited-4.10.0/lib/audited/sweeper.rb:14:in `around'
 df8a38c8 | /usr/share/foreman/vendor/ruby/2.7.0/gems/activesupport-6.0.3.7/lib/active_support/callbacks.rb:121:in `block in run_callbacks'
 df8a38c8 | /usr/share/foreman/vendor/ruby/2.7.0/gems/audited-4.10.0/lib/audited/sweeper.rb:14:in `around'
 df8a38c8 | /usr/share/foreman/vendor/ruby/2.7.0/gems/activesupport-6.0.3.7/lib/active_support/callbacks.rb:121:in `block in run_callbacks'
 df8a38c8 | /usr/share/foreman/vendor/ruby/2.7.0/gems/activesupport-6.0.3.7/lib/active_support/callbacks.rb:139:in `run_callbacks'
 df8a38c8 | /usr/share/foreman/vendor/ruby/2.7.0/gems/actionpack-6.0.3.7/lib/abstract_controller/callbacks.rb:41:in `process_action'
 df8a38c8 | /usr/share/foreman/vendor/ruby/2.7.0/gems/actionpack-6.0.3.7/lib/action_controller/metal/rescue.rb:22:in `process_action'
 df8a38c8 | /usr/share/foreman/vendor/ruby/2.7.0/gems/actionpack-6.0.3.7/lib/action_controller/metal/instrumentation.rb:33:in `block in process_action'
 df8a38c8 | /usr/share/foreman/vendor/ruby/2.7.0/gems/activesupport-6.0.3.7/lib/active_support/notifications.rb:180:in `block in instrument'
 df8a38c8 | /usr/share/foreman/vendor/ruby/2.7.0/gems/activesupport-6.0.3.7/lib/active_support/notifications/instrumenter.rb:24:in `instrument'
 df8a38c8 | /usr/share/foreman/vendor/ruby/2.7.0/gems/activesupport-6.0.3.7/lib/active_support/notifications.rb:180:in `instrument'
 df8a38c8 | /usr/share/foreman/vendor/ruby/2.7.0/gems/actionpack-6.0.3.7/lib/action_controller/metal/instrumentation.rb:32:in `process_action'
 df8a38c8 | /usr/share/foreman/vendor/ruby/2.7.0/gems/actionpack-6.0.3.7/lib/action_controller/metal/params_wrapper.rb:245:in `process_action'
 df8a38c8 | /usr/share/foreman/vendor/ruby/2.7.0/gems/activerecord-6.0.3.7/lib/active_record/railties/controller_runtime.rb:27:in `process_action'
 df8a38c8 | /usr/share/foreman/vendor/ruby/2.7.0/gems/actionpack-6.0.3.7/lib/abstract_controller/base.rb:136:in `process'
 df8a38c8 | /usr/share/foreman/vendor/ruby/2.7.0/gems/actionview-6.0.3.7/lib/action_view/rendering.rb:39:in `process'
 df8a38c8 | /usr/share/foreman/vendor/ruby/2.7.0/gems/actionpack-6.0.3.7/lib/action_controller/metal.rb:190:in `dispatch'
 df8a38c8 | /usr/share/foreman/vendor/ruby/2.7.0/gems/actionpack-6.0.3.7/lib/action_controller/metal.rb:254:in `dispatch'
 df8a38c8 | /usr/share/foreman/vendor/ruby/2.7.0/gems/actionpack-6.0.3.7/lib/action_dispatch/routing/route_set.rb:50:in `dispatch'
 df8a38c8 | /usr/share/foreman/vendor/ruby/2.7.0/gems/actionpack-6.0.3.7/lib/action_dispatch/routing/route_set.rb:33:in `serve'
 df8a38c8 | /usr/share/foreman/vendor/ruby/2.7.0/gems/actionpack-6.0.3.7/lib/action_dispatch/journey/router.rb:49:in `block in serve'
 df8a38c8 | /usr/share/foreman/vendor/ruby/2.7.0/gems/actionpack-6.0.3.7/lib/action_dispatch/journey/router.rb:32:in `each'
 df8a38c8 | /usr/share/foreman/vendor/ruby/2.7.0/gems/actionpack-6.0.3.7/lib/action_dispatch/journey/router.rb:32:in `serve'
 df8a38c8 | /usr/share/foreman/vendor/ruby/2.7.0/gems/actionpack-6.0.3.7/lib/action_dispatch/routing/route_set.rb:834:in `call'
 df8a38c8 | /usr/share/foreman/vendor/ruby/2.7.0/gems/apipie-dsl-2.4.0/lib/apipie_dsl/static_dispatcher.rb:67:in `call'
 df8a38c8 | /usr/share/foreman/vendor/ruby/2.7.0/gems/apipie-rails-0.5.19/lib/apipie/static_dispatcher.rb:66:in `call'
 df8a38c8 | /usr/share/foreman/vendor/ruby/2.7.0/gems/apipie-rails-0.5.19/lib/apipie/extractor/recorder.rb:137:in `call'
 df8a38c8 | /usr/share/foreman/lib/foreman/middleware/libvirt_connection_cleaner.rb:9:in `call'
 df8a38c8 | /usr/share/foreman/lib/foreman/middleware/telemetry.rb:10:in `call'
 df8a38c8 | /usr/share/foreman/vendor/ruby/2.7.0/gems/apipie-rails-0.5.19/lib/apipie/middleware/checksum_in_headers.rb:27:in `call'
 df8a38c8 | /usr/share/foreman/lib/foreman/middleware/catch_json_parse_errors.rb:9:in `call'
 df8a38c8 | /usr/share/foreman/vendor/ruby/2.7.0/gems/rack-2.2.3/lib/rack/tempfile_reaper.rb:15:in `call'
 df8a38c8 | /usr/share/foreman/vendor/ruby/2.7.0/gems/rack-2.2.3/lib/rack/etag.rb:27:in `call'
 df8a38c8 | /usr/share/foreman/vendor/ruby/2.7.0/gems/rack-2.2.3/lib/rack/conditional_get.rb:40:in `call'
 df8a38c8 | /usr/share/foreman/vendor/ruby/2.7.0/gems/rack-2.2.3/lib/rack/head.rb:12:in `call'
 df8a38c8 | /usr/share/foreman/vendor/ruby/2.7.0/gems/actionpack-6.0.3.7/lib/action_dispatch/http/content_security_policy.rb:18:in `call'
 df8a38c8 | /usr/share/foreman/lib/foreman/middleware/logging_context_session.rb:22:in `call'
 df8a38c8 | /usr/share/foreman/vendor/ruby/2.7.0/gems/rack-2.2.3/lib/rack/session/abstract/id.rb:266:in `context'
 df8a38c8 | /usr/share/foreman/vendor/ruby/2.7.0/gems/rack-2.2.3/lib/rack/session/abstract/id.rb:260:in `call'
 df8a38c8 | /usr/share/foreman/vendor/ruby/2.7.0/gems/actionpack-6.0.3.7/lib/action_dispatch/middleware/cookies.rb:648:in `call'
 df8a38c8 | /usr/share/foreman/vendor/ruby/2.7.0/gems/actionpack-6.0.3.7/lib/action_dispatch/middleware/callbacks.rb:27:in `block in call'
 df8a38c8 | /usr/share/foreman/vendor/ruby/2.7.0/gems/activesupport-6.0.3.7/lib/active_support/callbacks.rb:101:in `run_callbacks'
 df8a38c8 | /usr/share/foreman/vendor/ruby/2.7.0/gems/actionpack-6.0.3.7/lib/action_dispatch/middleware/callbacks.rb:26:in `call'
 df8a38c8 | /usr/share/foreman/vendor/ruby/2.7.0/gems/actionpack-6.0.3.7/lib/action_dispatch/middleware/actionable_exceptions.rb:18:in `call'
 df8a38c8 | /usr/share/foreman/vendor/ruby/2.7.0/gems/actionpack-6.0.3.7/lib/action_dispatch/middleware/debug_exceptions.rb:32:in `call'
 df8a38c8 | /usr/share/foreman/vendor/ruby/2.7.0/gems/actionpack-6.0.3.7/lib/action_dispatch/middleware/show_exceptions.rb:33:in `call'
 df8a38c8 | /usr/share/foreman/vendor/ruby/2.7.0/gems/railties-6.0.3.7/lib/rails/rack/logger.rb:37:in `call_app'
 df8a38c8 | /usr/share/foreman/vendor/ruby/2.7.0/gems/railties-6.0.3.7/lib/rails/rack/logger.rb:28:in `call'
 df8a38c8 | /usr/share/foreman/vendor/ruby/2.7.0/gems/sprockets-rails-3.4.2/lib/sprockets/rails/quiet_assets.rb:13:in `call'
 df8a38c8 | /usr/share/foreman/lib/foreman/middleware/logging_context_request.rb:11:in `call'
 df8a38c8 | /usr/share/foreman/vendor/ruby/2.7.0/gems/actionpack-6.0.3.7/lib/action_dispatch/middleware/remote_ip.rb:81:in `call'
 df8a38c8 | /usr/share/foreman/vendor/ruby/2.7.0/gems/actionpack-6.0.3.7/lib/action_dispatch/middleware/request_id.rb:27:in `call'
 df8a38c8 | /usr/share/foreman/vendor/ruby/2.7.0/gems/rack-2.2.3/lib/rack/method_override.rb:24:in `call'
 df8a38c8 | /usr/share/foreman/vendor/ruby/2.7.0/gems/rack-2.2.3/lib/rack/runtime.rb:22:in `call'
 df8a38c8 | /usr/share/foreman/vendor/ruby/2.7.0/gems/activesupport-6.0.3.7/lib/active_support/cache/strategy/local_cache_middleware.rb:29:in `call'
 df8a38c8 | /usr/share/foreman/vendor/ruby/2.7.0/gems/actionpack-6.0.3.7/lib/action_dispatch/middleware/executor.rb:14:in `call'
 df8a38c8 | /usr/share/foreman/vendor/ruby/2.7.0/gems/actionpack-6.0.3.7/lib/action_dispatch/middleware/static.rb:126:in `call'
 df8a38c8 | /usr/share/foreman/vendor/ruby/2.7.0/gems/rack-2.2.3/lib/rack/sendfile.rb:110:in `call'
 df8a38c8 | /usr/share/foreman/vendor/ruby/2.7.0/gems/actionpack-6.0.3.7/lib/action_dispatch/middleware/host_authorization.rb:76:in `call'
 df8a38c8 | /usr/share/foreman/vendor/ruby/2.7.0/gems/secure_headers-6.3.3/lib/secure_headers/middleware.rb:11:in `call'
 df8a38c8 | /usr/share/foreman/vendor/ruby/2.7.0/gems/railties-6.0.3.7/lib/rails/engine.rb:527:in `call'
 df8a38c8 | /usr/share/foreman/vendor/ruby/2.7.0/gems/railties-6.0.3.7/lib/rails/railtie.rb:190:in `public_send'
 df8a38c8 | /usr/share/foreman/vendor/ruby/2.7.0/gems/railties-6.0.3.7/lib/rails/railtie.rb:190:in `method_missing'
 df8a38c8 | /usr/share/foreman/vendor/ruby/2.7.0/gems/rack-2.2.3/lib/rack/urlmap.rb:74:in `block in call'
 df8a38c8 | /usr/share/foreman/vendor/ruby/2.7.0/gems/rack-2.2.3/lib/rack/urlmap.rb:58:in `each'
 df8a38c8 | /usr/share/foreman/vendor/ruby/2.7.0/gems/rack-2.2.3/lib/rack/urlmap.rb:58:in `call'
 df8a38c8 | /usr/share/foreman/vendor/ruby/2.7.0/gems/puma-5.6.2/lib/puma/configuration.rb:252:in `call'
 df8a38c8 | /usr/share/foreman/vendor/ruby/2.7.0/gems/puma-5.6.2/lib/puma/request.rb:77:in `block in handle_request'
 df8a38c8 | /usr/share/foreman/vendor/ruby/2.7.0/gems/puma-5.6.2/lib/puma/thread_pool.rb:340:in `with_force_shutdown'
 df8a38c8 | /usr/share/foreman/vendor/ruby/2.7.0/gems/puma-5.6.2/lib/puma/request.rb:76:in `handle_request'
 df8a38c8 | /usr/share/foreman/vendor/ruby/2.7.0/gems/puma-5.6.2/lib/puma/server.rb:441:in `process_client'
 df8a38c8 | /usr/share/foreman/vendor/ruby/2.7.0/gems/puma-5.6.2/lib/puma/thread_pool.rb:147:in `block in spawn_thread'
 df8a38c8 | /usr/share/foreman/vendor/ruby/2.7.0/gems/logging-2.3.0/lib/logging/diagnostic_context.rb:474:in `block in create_with_logging_context'
2022-04-13T09:21:31 [I|app|df8a38c8] Redirected to https://icdatasrv010.*********DOMAIN********/discovered_hosts/host-icdatasrv012/edit?utf8=%E2%9C%93&host%5Bhostgroup_id%5D=1&host%5Borganization_id%5D=1&host%5Blocation_id%5D=2
2022-04-13T09:21:31 [I|app|df8a38c8] Completed 302 Found in 2084ms (ActiveRecord: 21.6ms | Allocations: 46671)

Foreman version: 3.2.0
Plugins: 
 - foreman_dhcp_browser 0.0.8
 - foreman_discovery 20.0.1
 - foreman_puppet 3.0.5
 - foreman_setup 8.0.1

Proxy Log:
2022-04-13T09:21:31 df8a38c8 [I] Started GET /dhcp/10.90.35.0/ip/10.90.35.13 
2022-04-13T09:21:31 df8a38c8 [E] wrong number of arguments (given 2, expected 1)
2022-04-13T09:21:31 df8a38c8 [W] Error details for wrong number of arguments (given 2, exp
ected 1): <ArgumentError>: wrong number of arguments (given 2, expected 1)
/usr/share/foreman-proxy/modules/dhcp_common/server.rb:32:in `validate_supported_address'
/usr/share/foreman-proxy/modules/dhcp/dhcp_api.rb:63:in `block in <class:DhcpApi>'
/usr/lib/ruby/vendor_ruby/sinatra/base.rb:1636:in `call'
/usr/lib/ruby/vendor_ruby/sinatra/base.rb:1636:in `block in compile!'
/usr/lib/ruby/vendor_ruby/sinatra/base.rb:987:in `block (3 levels) in route!'
/usr/lib/ruby/vendor_ruby/sinatra/base.rb:1006:in `route_eval'
/usr/lib/ruby/vendor_ruby/sinatra/base.rb:987:in `block (2 levels) in route!'
/usr/lib/ruby/vendor_ruby/sinatra/base.rb:1035:in `block in process_route'
/usr/lib/ruby/vendor_ruby/sinatra/base.rb:1033:in `catch'
/usr/lib/ruby/vendor_ruby/sinatra/base.rb:1033:in `process_route'
/usr/lib/ruby/vendor_ruby/sinatra/base.rb:985:in `block in route!'
/usr/lib/ruby/vendor_ruby/sinatra/base.rb:984:in `each'
/usr/lib/ruby/vendor_ruby/sinatra/base.rb:984:in `route!'
/usr/lib/ruby/vendor_ruby/sinatra/base.rb:1098:in `block in dispatch!'
/usr/lib/ruby/vendor_ruby/sinatra/base.rb:1072:in `block in invoke'
/usr/lib/ruby/vendor_ruby/sinatra/base.rb:1072:in `catch'
/usr/lib/ruby/vendor_ruby/sinatra/base.rb:1072:in `invoke'
/usr/lib/ruby/vendor_ruby/sinatra/base.rb:1095:in `dispatch!'
/usr/lib/ruby/vendor_ruby/sinatra/base.rb:919:in `block in call!'
/usr/lib/ruby/vendor_ruby/sinatra/base.rb:1072:in `block in invoke'
/usr/lib/ruby/vendor_ruby/sinatra/base.rb:1072:in `catch'
/usr/lib/ruby/vendor_ruby/sinatra/base.rb:1072:in `invoke'
/usr/lib/ruby/vendor_ruby/sinatra/base.rb:919:in `call!'
/usr/lib/ruby/vendor_ruby/sinatra/base.rb:908:in `call'
/usr/lib/ruby/vendor_ruby/rack/method_override.rb:22:in `call'
/usr/share/foreman-proxy/lib/proxy/log.rb:105:in `call'
/usr/share/foreman-proxy/lib/proxy/request_id_middleware.rb:11:in `call'
/usr/lib/ruby/vendor_ruby/rack/protection/xss_header.rb:18:in `call'
/usr/lib/ruby/vendor_ruby/rack/protection/path_traversal.rb:16:in `call'
/usr/lib/ruby/vendor_ruby/rack/protection/json_csrf.rb:26:in `call'
/usr/lib/ruby/vendor_ruby/rack/protection/base.rb:50:in `call'
/usr/lib/ruby/vendor_ruby/rack/protection/base.rb:50:in `call'
/usr/lib/ruby/vendor_ruby/rack/protection/frame_options.rb:31:in `call'
/usr/lib/ruby/vendor_ruby/rack/null_logger.rb:9:in `call'
/usr/lib/ruby/vendor_ruby/rack/head.rb:12:in `call'
/usr/lib/ruby/vendor_ruby/sinatra/show_exceptions.rb:22:in `call'
/usr/lib/ruby/vendor_ruby/sinatra/base.rb:194:in `call'
/usr/lib/ruby/vendor_ruby/sinatra/base.rb:1951:in `call'
/usr/lib/ruby/vendor_ruby/sinatra/base.rb:1503:in `block in call'
/usr/lib/ruby/vendor_ruby/sinatra/base.rb:1730:in `synchronize'
/usr/lib/ruby/vendor_ruby/sinatra/base.rb:1503:in `call'
/usr/lib/ruby/vendor_ruby/rack/urlmap.rb:68:in `block in call'
/usr/lib/ruby/vendor_ruby/rack/urlmap.rb:53:in `each'
/usr/lib/ruby/vendor_ruby/rack/urlmap.rb:53:in `call'
/usr/lib/ruby/vendor_ruby/rack/builder.rb:153:in `call'
/usr/lib/ruby/vendor_ruby/rack/handler/webrick.rb:86:in `service'
/usr/lib/ruby/2.7.0/webrick/httpserver.rb:140:in `service'
/usr/lib/ruby/2.7.0/webrick/httpserver.rb:96:in `run'
/usr/lib/ruby/2.7.0/webrick/server.rb:307:in `block in start_thread'
/usr/lib/ruby/vendor_ruby/logging/diagnostic_context.rb:474:in `block in create_with_logging_context'