Hey everyone,
I'm in the middle of creating a new Editor for Foreman. I thought about opening a thread because I want to open a debate about changing the current UX. This new editor will also help us get rid of a big Technical Debt(Lots of jquery code

) . I'll jump right into showing the progress:
Editor Navbar
Current Editor Navbar:

New Editor Navbar:

My Thoughts:
Navbar should be a bit smaller
Buttons should have a fixed width
The button of the current view should be shown as active ( blue )
Tabs that change the view should be on the left
Functionality and Dropdowns should be on the right
I Know this should be a practical and easy to use application but I wanted to try using icons instead of text, every icon shows a tooltip on hover after a 500ms delay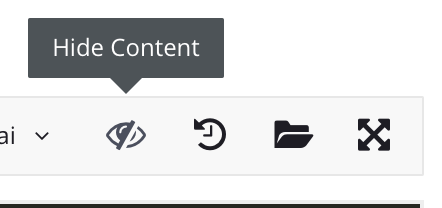 Diff View
Current Diff View:

New Diff View:

This Diff view is being reviewed in another PR and being used in the Audits page aswell. It shares the Github theme and can be switched from Unified to Split. I'm not sure about the position of the Unified and Split button in this case, any feedback is appreciated.
Fullscreen
The previous fullscreen method would change CSS classes to display the editor inside the layout borders. Now clicking on fullscreen opens a modal that covers ~90% of the screen estate. The modal content is based on the current view as shown below:
I guess the most changed element is the Editor Navbar so any feedback on this is appreciated! Will soon link a WIP PR.
Thanks!