Problem:
I'm rebuidling my foreman instance and running into problems with the built in DHCP server. I have it setup fine to handle discovery and initial provisioning, but if I try to reprovision the server, I get a DHCP conflict. This also happens if I delete a server and rediscover it, the DHCP entries are never cleaned up. I havent seen any other posts talking about a similar issue, so I'm hoping I just missed a setting and will apprecieate any help.
My work around is to manually delete the DHCP entry through the API
curl --cert /etc/foreman/client_cert.pem --key /etc/foreman/client_key.pem --cacert /etc/foreman/proxy_ca.pem -X "DELETE" https://foreman-1.app.domain:9090/dhcp/10.10.54.0/ip/10.10.54.25

After manually deleting the DHCP entry, I can rebuild the host without issues.
Thanks!
Expected outcome:
I expect foreman to overwrite DHCP entries it manages.
Foreman and Proxy versions:
3.0.0
Foreman and Proxy plugin versions:
foreman-tasks: 5.1.0
foreman_ansible: 6.4.1
foreman_bootdisk: 18.0.0
foreman_discovery: 18.0.0
foreman_puppet: 1.0.3
foreman_remote_execution: 4.7.0
katello: 4.2.0.1.rc3
Distribution and version:
Red Hat Enterprise Linux release 8.4 (Ootpa)
Other relevant data:
Configuration:
foreman-installer \
--foreman-proxy-dhcp=true \
--foreman-proxy-dhcp-gateway=10.10.54.1 \
--foreman-proxy-dhcp-range="10.10.54.10 10.10.54.249" \
--foreman-proxy-dhcp-nameservers="10.10.54.250,10.10.54.251" \
--foreman-proxy-tftp=true \
--enable-foreman-plugin-discovery \
--enable-foreman-proxy-plugin-discovery \
--foreman-proxy-plugin-discovery-install-images=true \
--foreman-proxy-http true \
--foreman-proxy-httpboot=true \
--enable-foreman-plugin-remote-execution \
--enable-foreman-proxy-plugin-remote-execution-ssh \
--enable-foreman-plugin-ansible --enable-foreman-proxy-plugin-ansible \
--enable-foreman-plugin-bootdisk

UI subnet config: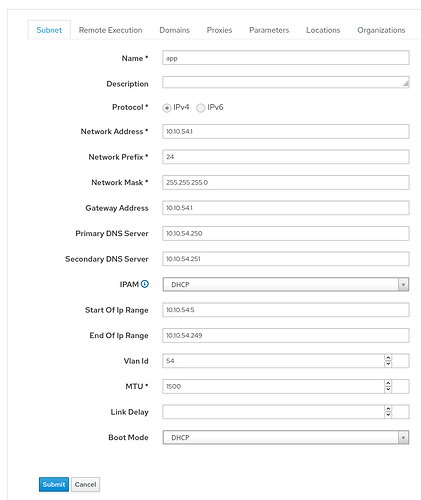 In the UI, I receive this message
Failed to enable centos.app.domain for installation: ["Create DHCP Settings for centos.app.domain task failed with the following error: ERF12-6899 [ProxyAPI::ProxyException]: Unable to set DHCP entry ([RestClient::Conflict]: 409 Conflict) for proxy https://foreman-1.app.domain:9090/dhcp", "Failed to perform rollback on Remove DHCP Settings for centos.app.domain - ERF12-6899 [ProxyAPI::ProxyException]: Unable to set DHCP entry ([RestClient::Conflict]: 409 Conflict) for proxy https://foreman-1.app.domain:9090/dhcp"]

/var/log/foreman-proxy/proxy.log
2021-10-13T22:47:28 43dc6537 [I] Started GET /v2/features 
2021-10-13T22:47:28 43dc6537 [I] Finished GET /v2/features with 200 (226.26 ms)
2021-10-13T22:47:32 f5fa75db [I] Started GET /tftp/serverName 
2021-10-13T22:47:32 f5fa75db [I] Finished GET /tftp/serverName with 200 (0.67 ms)
2021-10-13T22:47:32 f5fa75db [I] Started GET /dhcp/10.10.54.1/mac/56:6f:c4:a5:00:07 
2021-10-13T22:47:32 f5fa75db [E] No DHCP record for MAC 10.10.54.1/56:6f:c4:a5:00:07 found
2021-10-13T22:47:32 f5fa75db [W] Error details for No DHCP record for MAC 10.10.54.1/56:6f:c4:a5:00:07 found: <Exception>: No DHCP record for MAC 10.10.54.1/56:6f:c4:a5:00:07 found
2021-10-13T22:47:32 f5fa75db [W] No DHCP record for MAC 10.10.54.1/56:6f:c4:a5:00:07 found: <Exception>: No DHCP record for MAC 10.10.54.1/56:6f:c4:a5:00:07 found
2021-10-13T22:47:32 f5fa75db [I] Finished GET /dhcp/10.10.54.1/mac/56:6f:c4:a5:00:07 with 404 (1.71 ms)
2021-10-13T22:47:32 f5fa75db [I] Started GET /dhcp/10.10.54.1/ip/10.10.54.233 
2021-10-13T22:47:32 f5fa75db [E] No DHCP records for IP 10.10.54.1/10.10.54.233 found
2021-10-13T22:47:32 f5fa75db [W] Error details for No DHCP records for IP 10.10.54.1/10.10.54.233 found: <Exception>: No DHCP records for IP 10.10.54.1/10.10.54.233 found
2021-10-13T22:47:32 f5fa75db [W] No DHCP records for IP 10.10.54.1/10.10.54.233 found: <Exception>: No DHCP records for IP 10.10.54.1/10.10.54.233 found
2021-10-13T22:47:32 f5fa75db [I] Finished GET /dhcp/10.10.54.1/ip/10.10.54.233 with 404 (0.81 ms)
2021-10-13T22:47:32 f5fa75db [I] Started GET /dhcp/10.10.54.1/mac/56:6f:c4:a5:00:07 
2021-10-13T22:47:32 f5fa75db [E] No DHCP record for MAC 10.10.54.1/56:6f:c4:a5:00:07 found
2021-10-13T22:47:32 f5fa75db [W] Error details for No DHCP record for MAC 10.10.54.1/56:6f:c4:a5:00:07 found: <Exception>: No DHCP record for MAC 10.10.54.1/56:6f:c4:a5:00:07 found
2021-10-13T22:47:32 f5fa75db [W] No DHCP record for MAC 10.10.54.1/56:6f:c4:a5:00:07 found: <Exception>: No DHCP record for MAC 10.10.54.1/56:6f:c4:a5:00:07 found
2021-10-13T22:47:32 f5fa75db [I] Finished GET /dhcp/10.10.54.1/mac/56:6f:c4:a5:00:07 with 404 (0.69 ms)
2021-10-13T22:47:32 f5fa75db [I] Started GET /tftp/serverName 
2021-10-13T22:47:32 f5fa75db [I] Finished GET /tftp/serverName with 200 (0.56 ms)
2021-10-13T22:47:32 f5fa75db [I] Started DELETE /dhcp/10.10.54.1/mac/56:6f:c4:a5:00:07 
2021-10-13T22:47:32 f5fa75db [I] Finished DELETE /dhcp/10.10.54.1/mac/56:6f:c4:a5:00:07 with 200 (0.53 ms)
2021-10-13T22:47:32 f5fa75db [I] Started POST /dhcp/10.10.54.1 
2021-10-13T22:47:32 f5fa75db [W] Request to create a conflicting DHCP record
2021-10-13T22:47:32 f5fa75db [E] Record 10.10.54.0/10.10.54.233 already exists
2021-10-13T22:47:32 f5fa75db [W] Error details for Record 10.10.54.0/10.10.54.233 already exists: <Proxy::DHCP::Collision>: Record 10.10.54.0/10.10.54.233 already exists
/usr/share/foreman-proxy/modules/dhcp_common/server.rb:157:in `add_record'
/usr/share/foreman-proxy/modules/dhcp_common/isc/omapi_provider.rb:29:in `add_record'
/usr/share/foreman-proxy/modules/dhcp/dhcp_api.rb:87:in `block in <class:DhcpApi>'
/usr/share/gems/gems/sinatra-2.1.0/lib/sinatra/base.rb:1675:in `call'
/usr/share/gems/gems/sinatra-2.1.0/lib/sinatra/base.rb:1675:in `block in compile!'
/usr/share/gems/gems/sinatra-2.1.0/lib/sinatra/base.rb:1013:in `block (3 levels) in route!'
/usr/share/gems/gems/sinatra-2.1.0/lib/sinatra/base.rb:1032:in `route_eval'
/usr/share/gems/gems/sinatra-2.1.0/lib/sinatra/base.rb:1013:in `block (2 levels) in route!'
/usr/share/gems/gems/sinatra-2.1.0/lib/sinatra/base.rb:1061:in `block in process_route'
/usr/share/gems/gems/sinatra-2.1.0/lib/sinatra/base.rb:1059:in `catch'
/usr/share/gems/gems/sinatra-2.1.0/lib/sinatra/base.rb:1059:in `process_route'
/usr/share/gems/gems/sinatra-2.1.0/lib/sinatra/base.rb:1011:in `block in route!'
/usr/share/gems/gems/sinatra-2.1.0/lib/sinatra/base.rb:1008:in `each'
/usr/share/gems/gems/sinatra-2.1.0/lib/sinatra/base.rb:1008:in `route!'
/usr/share/gems/gems/sinatra-2.1.0/lib/sinatra/base.rb:1129:in `block in dispatch!'
/usr/share/gems/gems/sinatra-2.1.0/lib/sinatra/base.rb:1101:in `block in invoke'
/usr/share/gems/gems/sinatra-2.1.0/lib/sinatra/base.rb:1101:in `catch'
/usr/share/gems/gems/sinatra-2.1.0/lib/sinatra/base.rb:1101:in `invoke'
/usr/share/gems/gems/sinatra-2.1.0/lib/sinatra/base.rb:1124:in `dispatch!'
/usr/share/gems/gems/sinatra-2.1.0/lib/sinatra/base.rb:939:in `block in call!'
/usr/share/gems/gems/sinatra-2.1.0/lib/sinatra/base.rb:1101:in `block in invoke'
/usr/share/gems/gems/sinatra-2.1.0/lib/sinatra/base.rb:1101:in `catch'
/usr/share/gems/gems/sinatra-2.1.0/lib/sinatra/base.rb:1101:in `invoke'
/usr/share/gems/gems/sinatra-2.1.0/lib/sinatra/base.rb:939:in `call!'
/usr/share/gems/gems/sinatra-2.1.0/lib/sinatra/base.rb:929:in `call'
/usr/share/gems/gems/rack-2.2.3/lib/rack/method_override.rb:24:in `call'
/usr/share/foreman-proxy/lib/proxy/log.rb:105:in `call'
/usr/share/foreman-proxy/lib/proxy/request_id_middleware.rb:11:in `call'
/usr/share/gems/gems/rack-protection-2.1.0/lib/rack/protection/xss_header.rb:18:in `call'
/usr/share/gems/gems/rack-protection-2.1.0/lib/rack/protection/path_traversal.rb:16:in `call'
/usr/share/gems/gems/rack-protection-2.1.0/lib/rack/protection/json_csrf.rb:26:in `call'
/usr/share/gems/gems/rack-protection-2.1.0/lib/rack/protection/base.rb:50:in `call'
/usr/share/gems/gems/rack-protection-2.1.0/lib/rack/protection/base.rb:50:in `call'
/usr/share/gems/gems/rack-protection-2.1.0/lib/rack/protection/frame_options.rb:31:in `call'
/usr/share/gems/gems/rack-2.2.3/lib/rack/null_logger.rb:11:in `call'
/usr/share/gems/gems/rack-2.2.3/lib/rack/head.rb:12:in `call'
/usr/share/gems/gems/sinatra-2.1.0/lib/sinatra/show_exceptions.rb:22:in `call'
/usr/share/gems/gems/sinatra-2.1.0/lib/sinatra/base.rb:216:in `call'
/usr/share/gems/gems/sinatra-2.1.0/lib/sinatra/base.rb:1991:in `call'
/usr/share/gems/gems/sinatra-2.1.0/lib/sinatra/base.rb:1542:in `block in call'
/usr/share/gems/gems/sinatra-2.1.0/lib/sinatra/base.rb:1769:in `synchronize'
/usr/share/gems/gems/sinatra-2.1.0/lib/sinatra/base.rb:1542:in `call'
/usr/share/gems/gems/rack-2.2.3/lib/rack/urlmap.rb:74:in `block in call'
/usr/share/gems/gems/rack-2.2.3/lib/rack/urlmap.rb:58:in `each'
/usr/share/gems/gems/rack-2.2.3/lib/rack/urlmap.rb:58:in `call'
/usr/share/gems/gems/rack-2.2.3/lib/rack/builder.rb:244:in `call'
/usr/share/gems/gems/rack-2.2.3/lib/rack/handler/webrick.rb:95:in `service'
/usr/share/ruby/webrick/httpserver.rb:140:in `service'
/usr/share/ruby/webrick/httpserver.rb:96:in `run'
/usr/share/ruby/webrick/server.rb:307:in `block in start_thread'
/usr/share/gems/gems/logging-2.3.0/lib/logging/diagnostic_context.rb:474:in `block in create_with_logging_context'
2021-10-13T22:47:32 f5fa75db [W] Record 10.10.54.0/10.10.54.233 already exists: <Proxy::DHCP::Collision>: Record 10.10.54.0/10.10.54.233 already exists
/usr/share/foreman-proxy/modules/dhcp_common/server.rb:157:in `add_record'
/usr/share/foreman-proxy/modules/dhcp_common/isc/omapi_provider.rb:29:in `add_record'
/usr/share/foreman-proxy/modules/dhcp/dhcp_api.rb:87:in `block in <class:DhcpApi>'
/usr/share/gems/gems/sinatra-2.1.0/lib/sinatra/base.rb:1675:in `call'
/usr/share/gems/gems/sinatra-2.1.0/lib/sinatra/base.rb:1675:in `block in compile!'
/usr/share/gems/gems/sinatra-2.1.0/lib/sinatra/base.rb:1013:in `block (3 levels) in route!'
/usr/share/gems/gems/sinatra-2.1.0/lib/sinatra/base.rb:1032:in `route_eval'
/usr/share/gems/gems/sinatra-2.1.0/lib/sinatra/base.rb:1013:in `block (2 levels) in route!'
/usr/share/gems/gems/sinatra-2.1.0/lib/sinatra/base.rb:1061:in `block in process_route'
/usr/share/gems/gems/sinatra-2.1.0/lib/sinatra/base.rb:1059:in `catch'
/usr/share/gems/gems/sinatra-2.1.0/lib/sinatra/base.rb:1059:in `process_route'
/usr/share/gems/gems/sinatra-2.1.0/lib/sinatra/base.rb:1011:in `block in route!'
/usr/share/gems/gems/sinatra-2.1.0/lib/sinatra/base.rb:1008:in `each'
/usr/share/gems/gems/sinatra-2.1.0/lib/sinatra/base.rb:1008:in `route!'
/usr/share/gems/gems/sinatra-2.1.0/lib/sinatra/base.rb:1129:in `block in dispatch!'
/usr/share/gems/gems/sinatra-2.1.0/lib/sinatra/base.rb:1101:in `block in invoke'
/usr/share/gems/gems/sinatra-2.1.0/lib/sinatra/base.rb:1101:in `catch'
/usr/share/gems/gems/sinatra-2.1.0/lib/sinatra/base.rb:1101:in `invoke'
/usr/share/gems/gems/sinatra-2.1.0/lib/sinatra/base.rb:1124:in `dispatch!'
/usr/share/gems/gems/sinatra-2.1.0/lib/sinatra/base.rb:939:in `block in call!'
/usr/share/gems/gems/sinatra-2.1.0/lib/sinatra/base.rb:1101:in `block in invoke'
/usr/share/gems/gems/sinatra-2.1.0/lib/sinatra/base.rb:1101:in `catch'
/usr/share/gems/gems/sinatra-2.1.0/lib/sinatra/base.rb:1101:in `invoke'
/usr/share/gems/gems/sinatra-2.1.0/lib/sinatra/base.rb:939:in `call!'
/usr/share/gems/gems/sinatra-2.1.0/lib/sinatra/base.rb:929:in `call'
/usr/share/gems/gems/rack-2.2.3/lib/rack/method_override.rb:24:in `call'
/usr/share/foreman-proxy/lib/proxy/log.rb:105:in `call'
/usr/share/foreman-proxy/lib/proxy/request_id_middleware.rb:11:in `call'
/usr/share/gems/gems/rack-protection-2.1.0/lib/rack/protection/xss_header.rb:18:in `call'
/usr/share/gems/gems/rack-protection-2.1.0/lib/rack/protection/path_traversal.rb:16:in `call'
/usr/share/gems/gems/rack-protection-2.1.0/lib/rack/protection/json_csrf.rb:26:in `call'
/usr/share/gems/gems/rack-protection-2.1.0/lib/rack/protection/base.rb:50:in `call'
/usr/share/gems/gems/rack-protection-2.1.0/lib/rack/protection/base.rb:50:in `call'
/usr/share/gems/gems/rack-protection-2.1.0/lib/rack/protection/frame_options.rb:31:in `call'
/usr/share/gems/gems/rack-2.2.3/lib/rack/null_logger.rb:11:in `call'
/usr/share/gems/gems/rack-2.2.3/lib/rack/head.rb:12:in `call'
/usr/share/gems/gems/sinatra-2.1.0/lib/sinatra/show_exceptions.rb:22:in `call'
/usr/share/gems/gems/sinatra-2.1.0/lib/sinatra/base.rb:216:in `call'
/usr/share/gems/gems/sinatra-2.1.0/lib/sinatra/base.rb:1991:in `call'
/usr/share/gems/gems/sinatra-2.1.0/lib/sinatra/base.rb:1542:in `block in call'
/usr/share/gems/gems/sinatra-2.1.0/lib/sinatra/base.rb:1769:in `synchronize'
/usr/share/gems/gems/sinatra-2.1.0/lib/sinatra/base.rb:1542:in `call'
/usr/share/gems/gems/rack-2.2.3/lib/rack/urlmap.rb:74:in `block in call'
/usr/share/gems/gems/rack-2.2.3/lib/rack/urlmap.rb:58:in `each'
/usr/share/gems/gems/rack-2.2.3/lib/rack/urlmap.rb:58:in `call'
/usr/share/gems/gems/rack-2.2.3/lib/rack/builder.rb:244:in `call'
/usr/share/gems/gems/rack-2.2.3/lib/rack/handler/webrick.rb:95:in `service'
/usr/share/ruby/webrick/httpserver.rb:140:in `service'
/usr/share/ruby/webrick/httpserver.rb:96:in `run'
/usr/share/ruby/webrick/server.rb:307:in `block in start_thread'
/usr/share/gems/gems/logging-2.3.0/lib/logging/diagnostic_context.rb:474:in `block in create_with_logging_context'
2021-10-13T22:47:32 f5fa75db [I] Finished POST /dhcp/10.10.54.1 with 409 (4.08 ms)
2021-10-13T22:47:32 f5fa75db [I] Started POST /dhcp/10.10.54.1 
2021-10-13T22:47:32 f5fa75db [W] Request to create a conflicting DHCP record
2021-10-13T22:47:32 f5fa75db [E] Record 10.10.54.0/10.10.54.233 already exists
2021-10-13T22:47:32 f5fa75db [W] Error details for Record 10.10.54.0/10.10.54.233 already exists: <Proxy::DHCP::Collision>: Record 10.10.54.0/10.10.54.233 already exists
/usr/share/foreman-proxy/modules/dhcp_common/server.rb:157:in `add_record'
/usr/share/foreman-proxy/modules/dhcp_common/isc/omapi_provider.rb:29:in `add_record'
/usr/share/foreman-proxy/modules/dhcp/dhcp_api.rb:87:in `block in <class:DhcpApi>'
/usr/share/gems/gems/sinatra-2.1.0/lib/sinatra/base.rb:1675:in `call'
/usr/share/gems/gems/sinatra-2.1.0/lib/sinatra/base.rb:1675:in `block in compile!'
/usr/share/gems/gems/sinatra-2.1.0/lib/sinatra/base.rb:1013:in `block (3 levels) in route!'
/usr/share/gems/gems/sinatra-2.1.0/lib/sinatra/base.rb:1032:in `route_eval'
/usr/share/gems/gems/sinatra-2.1.0/lib/sinatra/base.rb:1013:in `block (2 levels) in route!'
/usr/share/gems/gems/sinatra-2.1.0/lib/sinatra/base.rb:1061:in `block in process_route'
/usr/share/gems/gems/sinatra-2.1.0/lib/sinatra/base.rb:1059:in `catch'
/usr/share/gems/gems/sinatra-2.1.0/lib/sinatra/base.rb:1059:in `process_route'
/usr/share/gems/gems/sinatra-2.1.0/lib/sinatra/base.rb:1011:in `block in route!'
/usr/share/gems/gems/sinatra-2.1.0/lib/sinatra/base.rb:1008:in `each'
/usr/share/gems/gems/sinatra-2.1.0/lib/sinatra/base.rb:1008:in `route!'
/usr/share/gems/gems/sinatra-2.1.0/lib/sinatra/base.rb:1129:in `block in dispatch!'
/usr/share/gems/gems/sinatra-2.1.0/lib/sinatra/base.rb:1101:in `block in invoke'
/usr/share/gems/gems/sinatra-2.1.0/lib/sinatra/base.rb:1101:in `catch'
/usr/share/gems/gems/sinatra-2.1.0/lib/sinatra/base.rb:1101:in `invoke'
/usr/share/gems/gems/sinatra-2.1.0/lib/sinatra/base.rb:1124:in `dispatch!'
/usr/share/gems/gems/sinatra-2.1.0/lib/sinatra/base.rb:939:in `block in call!'
/usr/share/gems/gems/sinatra-2.1.0/lib/sinatra/base.rb:1101:in `block in invoke'
/usr/share/gems/gems/sinatra-2.1.0/lib/sinatra/base.rb:1101:in `catch'
/usr/share/gems/gems/sinatra-2.1.0/lib/sinatra/base.rb:1101:in `invoke'
/usr/share/gems/gems/sinatra-2.1.0/lib/sinatra/base.rb:939:in `call!'
/usr/share/gems/gems/sinatra-2.1.0/lib/sinatra/base.rb:929:in `call'
/usr/share/gems/gems/rack-2.2.3/lib/rack/method_override.rb:24:in `call'
/usr/share/foreman-proxy/lib/proxy/log.rb:105:in `call'
/usr/share/foreman-proxy/lib/proxy/request_id_middleware.rb:11:in `call'
/usr/share/gems/gems/rack-protection-2.1.0/lib/rack/protection/xss_header.rb:18:in `call'
/usr/share/gems/gems/rack-protection-2.1.0/lib/rack/protection/path_traversal.rb:16:in `call'
/usr/share/gems/gems/rack-protection-2.1.0/lib/rack/protection/json_csrf.rb:26:in `call'
/usr/share/gems/gems/rack-protection-2.1.0/lib/rack/protection/base.rb:50:in `call'
/usr/share/gems/gems/rack-protection-2.1.0/lib/rack/protection/base.rb:50:in `call'
/usr/share/gems/gems/rack-protection-2.1.0/lib/rack/protection/frame_options.rb:31:in `call'
/usr/share/gems/gems/rack-2.2.3/lib/rack/null_logger.rb:11:in `call'
/usr/share/gems/gems/rack-2.2.3/lib/rack/head.rb:12:in `call'
/usr/share/gems/gems/sinatra-2.1.0/lib/sinatra/show_exceptions.rb:22:in `call'
/usr/share/gems/gems/sinatra-2.1.0/lib/sinatra/base.rb:216:in `call'
/usr/share/gems/gems/sinatra-2.1.0/lib/sinatra/base.rb:1991:in `call'
/usr/share/gems/gems/sinatra-2.1.0/lib/sinatra/base.rb:1542:in `block in call'
/usr/share/gems/gems/sinatra-2.1.0/lib/sinatra/base.rb:1769:in `synchronize'
/usr/share/gems/gems/sinatra-2.1.0/lib/sinatra/base.rb:1542:in `call'
/usr/share/gems/gems/rack-2.2.3/lib/rack/urlmap.rb:74:in `block in call'
/usr/share/gems/gems/rack-2.2.3/lib/rack/urlmap.rb:58:in `each'
/usr/share/gems/gems/rack-2.2.3/lib/rack/urlmap.rb:58:in `call'
/usr/share/gems/gems/rack-2.2.3/lib/rack/builder.rb:244:in `call'
/usr/share/gems/gems/rack-2.2.3/lib/rack/handler/webrick.rb:95:in `service'
/usr/share/ruby/webrick/httpserver.rb:140:in `service'
/usr/share/ruby/webrick/httpserver.rb:96:in `run'
/usr/share/ruby/webrick/server.rb:307:in `block in start_thread'
/usr/share/gems/gems/logging-2.3.0/lib/logging/diagnostic_context.rb:474:in `block in create_with_logging_context'
2021-10-13T22:47:32 f5fa75db [W] Record 10.10.54.0/10.10.54.233 already exists: <Proxy::DHCP::Collision>: Record 10.10.54.0/10.10.54.233 already exists
/usr/share/foreman-proxy/modules/dhcp_common/server.rb:157:in `add_record'
/usr/share/foreman-proxy/modules/dhcp_common/isc/omapi_provider.rb:29:in `add_record'
/usr/share/foreman-proxy/modules/dhcp/dhcp_api.rb:87:in `block in <class:DhcpApi>'
/usr/share/gems/gems/sinatra-2.1.0/lib/sinatra/base.rb:1675:in `call'
/usr/share/gems/gems/sinatra-2.1.0/lib/sinatra/base.rb:1675:in `block in compile!'
/usr/share/gems/gems/sinatra-2.1.0/lib/sinatra/base.rb:1013:in `block (3 levels) in route!'
/usr/share/gems/gems/sinatra-2.1.0/lib/sinatra/base.rb:1032:in `route_eval'
/usr/share/gems/gems/sinatra-2.1.0/lib/sinatra/base.rb:1013:in `block (2 levels) in route!'
/usr/share/gems/gems/sinatra-2.1.0/lib/sinatra/base.rb:1061:in `block in process_route'
/usr/share/gems/gems/sinatra-2.1.0/lib/sinatra/base.rb:1059:in `catch'
/usr/share/gems/gems/sinatra-2.1.0/lib/sinatra/base.rb:1059:in `process_route'
/usr/share/gems/gems/sinatra-2.1.0/lib/sinatra/base.rb:1011:in `block in route!'
/usr/share/gems/gems/sinatra-2.1.0/lib/sinatra/base.rb:1008:in `each'
/usr/share/gems/gems/sinatra-2.1.0/lib/sinatra/base.rb:1008:in `route!'
/usr/share/gems/gems/sinatra-2.1.0/lib/sinatra/base.rb:1129:in `block in dispatch!'
/usr/share/gems/gems/sinatra-2.1.0/lib/sinatra/base.rb:1101:in `block in invoke'
/usr/share/gems/gems/sinatra-2.1.0/lib/sinatra/base.rb:1101:in `catch'
/usr/share/gems/gems/sinatra-2.1.0/lib/sinatra/base.rb:1101:in `invoke'
/usr/share/gems/gems/sinatra-2.1.0/lib/sinatra/base.rb:1124:in `dispatch!'
/usr/share/gems/gems/sinatra-2.1.0/lib/sinatra/base.rb:939:in `block in call!'
/usr/share/gems/gems/sinatra-2.1.0/lib/sinatra/base.rb:1101:in `block in invoke'
/usr/share/gems/gems/sinatra-2.1.0/lib/sinatra/base.rb:1101:in `catch'
/usr/share/gems/gems/sinatra-2.1.0/lib/sinatra/base.rb:1101:in `invoke'
/usr/share/gems/gems/sinatra-2.1.0/lib/sinatra/base.rb:939:in `call!'
/usr/share/gems/gems/sinatra-2.1.0/lib/sinatra/base.rb:929:in `call'
/usr/share/gems/gems/rack-2.2.3/lib/rack/method_override.rb:24:in `call'
/usr/share/foreman-proxy/lib/proxy/log.rb:105:in `call'
/usr/share/foreman-proxy/lib/proxy/request_id_middleware.rb:11:in `call'
/usr/share/gems/gems/rack-protection-2.1.0/lib/rack/protection/xss_header.rb:18:in `call'
/usr/share/gems/gems/rack-protection-2.1.0/lib/rack/protection/path_traversal.rb:16:in `call'
/usr/share/gems/gems/rack-protection-2.1.0/lib/rack/protection/json_csrf.rb:26:in `call'
/usr/share/gems/gems/rack-protection-2.1.0/lib/rack/protection/base.rb:50:in `call'
/usr/share/gems/gems/rack-protection-2.1.0/lib/rack/protection/base.rb:50:in `call'
/usr/share/gems/gems/rack-protection-2.1.0/lib/rack/protection/frame_options.rb:31:in `call'
/usr/share/gems/gems/rack-2.2.3/lib/rack/null_logger.rb:11:in `call'
/usr/share/gems/gems/rack-2.2.3/lib/rack/head.rb:12:in `call'
/usr/share/gems/gems/sinatra-2.1.0/lib/sinatra/show_exceptions.rb:22:in `call'
/usr/share/gems/gems/sinatra-2.1.0/lib/sinatra/base.rb:216:in `call'
/usr/share/gems/gems/sinatra-2.1.0/lib/sinatra/base.rb:1991:in `call'
/usr/share/gems/gems/sinatra-2.1.0/lib/sinatra/base.rb:1542:in `block in call'
/usr/share/gems/gems/sinatra-2.1.0/lib/sinatra/base.rb:1769:in `synchronize'
/usr/share/gems/gems/sinatra-2.1.0/lib/sinatra/base.rb:1542:in `call'
/usr/share/gems/gems/rack-2.2.3/lib/rack/urlmap.rb:74:in `block in call'
/usr/share/gems/gems/rack-2.2.3/lib/rack/urlmap.rb:58:in `each'
/usr/share/gems/gems/rack-2.2.3/lib/rack/urlmap.rb:58:in `call'
/usr/share/gems/gems/rack-2.2.3/lib/rack/builder.rb:244:in `call'
/usr/share/gems/gems/rack-2.2.3/lib/rack/handler/webrick.rb:95:in `service'
/usr/share/ruby/webrick/httpserver.rb:140:in `service'
/usr/share/ruby/webrick/httpserver.rb:96:in `run'
/usr/share/ruby/webrick/server.rb:307:in `block in start_thread'
/usr/share/gems/gems/logging-2.3.0/lib/logging/diagnostic_context.rb:474:in `block in create_with_logging_context'
2021-10-13T22:47:32 f5fa75db [I] Finished POST /dhcp/10.10.54.1 with 409 (1.45 ms)