Hello,
Problem:
Only for redhat 6 clients (redhat 7, centos 7 are ok), the number of applicable packages is always null in the interface.
There is therefore no applicable change, while on the client yum updateinfo info sec and yum check-update suggest serveral update.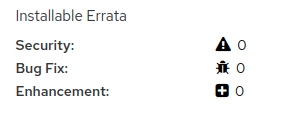 Note:
On the repositories infos page, there is the right information.
Expected outcome:
Show the Applicable Packages from redhat 6 clients on Foreman interface.
Foreman and Proxy versions:
Host redhat 7.9
Foreman 2.5.3-1
Katello 4.1.3-1
Pulp 3.0.0
Foreman and Proxy plugin versions:
Distribution and version:
Client Environment:
Redhat 6 (6.6 or 6.10)
subscription-manager-1.20.10-8 (subscription status is OK)
Other relevant data:
No logs errors (/var/log/foreman/production.log , journalctl -u pulp-worker*)