Problem:
Query on Host Errata Advisory as it shows zero
Expected outcome:
List of Errata Count to be Displayed
Foreman and Proxy versions:
katello-common-4.8.1-1.el8.noarch
foreman-installer-3.6.1-1.el8.noarch
foreman-release-3.6.1-1.el8.noarch
foreman-debug-3.6.1-1.el8.noarch
rubygem-hammer_cli_foreman-3.6.0-1.el8.noarch
rubygem-foreman-tasks-7.2.1-2.fm3_6.el8.noarch
katello-selinux-4.0.2-3.el8.noarch
foreman-3.6.1-1.el8.noarch
rubygem-katello-4.8.1-1.el8.noarch
katello-4.8.1-1.el8.noarch
katello-certs-tools-2.9.0-1.el8.noarch
rubygem-hammer_cli_katello-1.8.1-1.el8.noarch
katello-client-bootstrap-1.7.9-1.el8.noarch
rubygem-foreman_maintain-1.3.0-1.el8.noarch
foreman-postgresql-3.6.1-1.el8.noarch
foreman-installer-katello-3.6.1-1.el8.noarch
foreman-service-3.6.1-1.el8.noarch
foreman-cli-3.6.1-1.el8.noarch
katello-repos-4.8.1-1.el8.noarch
rubygem-foreman_remote_execution-9.1.0-1.fm3_6.el8.noarch
foreman-dynflow-sidekiq-3.6.1-1.el8.noarch
rubygem-hammer_cli_foreman_remote_execution-0.2.2-1.fm3_0.el8.noarch
rubygem-hammer_cli_foreman_tasks-0.0.18-1.fm3_5.el8.noarch
katello-debug-4.8.1-1.el8.noarch
foreman-selinux-3.6.1-1.el8.noarch
foreman-proxy-3.6.1-1.el8.noarch
Other relevant data:
I have registered around 10 systems to the foreman & have enabled email notifications for erratas.
It has been observed that only one hosts is seen in the mail. (Snippet attached)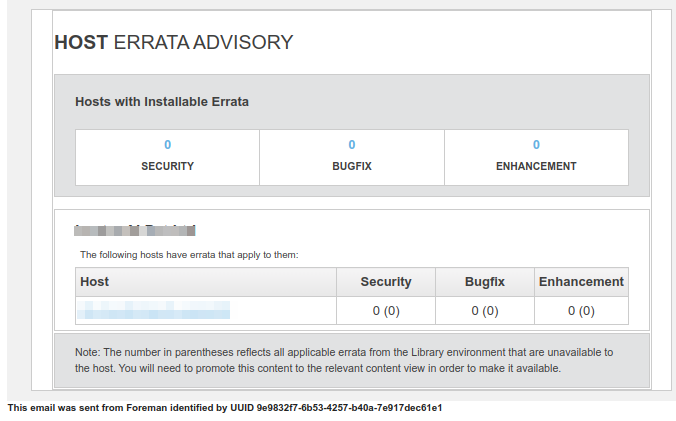 Request you to help me understand why there are no other hosts which can be seen in this mailer. OS patches applied to the system registered are probably the same.
Let me know if any other details are required.
Thanks, KS