Problem:
Hi, Last week I upgraded our Foreman 2.4.x / Katello 4.0 to version 3.0.1 / 4.2.1 (upgrade was done in 2 steps, first to 2.5.x / 4.1.x).
After this upgrade all hosts, as well the foreman-server himself, are markerd "out of sync".
Also for all hosts, the "last report" has "5 days ago".
For a new system that has been provisioned after the upgrade, "last report" is empty.
When I execute "puppet agent -t" on whatever host it works well (Applied catalog in 0.01 seconds).
In the log-file for the puppetserver I also see for each host "[puppetserver] Puppet Compiled catalog for < host-name > in environment production in 0.01 seconds".
In the UI, the reporting data is of past Friday 2021-12-10, the date the upgrade was done:

However, the facts are well processed for the hosts.
Executing "/etc/puppetlabs/puppet/node.rb < host-name > manually on te foreman-server also works as expected
In the production.log I can see the facts are well processed, however, the config_reports ends in an error.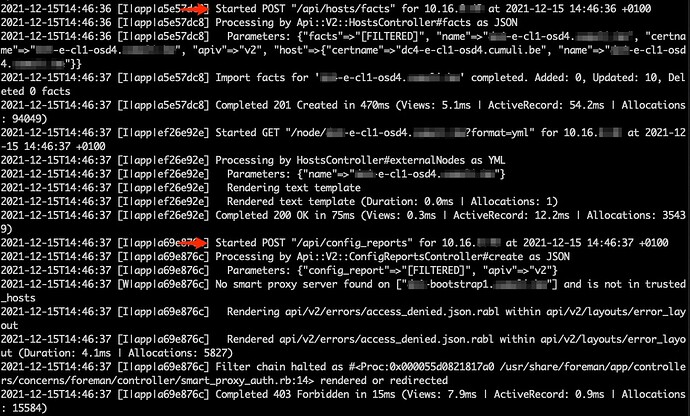 Anyone who can help me out to get this "out of sync" and "last report" fixed, because I can not find the right solution on the web?
Please let me know if additional info is required.
Thnx in advance.
Expected outcome:
All hosts be in sync and reporting works as expected.
Foreman and Proxy versions:
Foreman 3.0.1
Katello 4.2.1
Puppetserver 6.17.1
Foreman and Proxy plugin versions:
Foreman-proxy 3.0.1
Distribution and version:
CentOS 8.5
Other relevant data: