Hi,
Ipxe boot file is not created when I build a host.
Though, Ipxe file is created after autoprovision by a discovery rules. Never after that.
The host is configured with pxe loader set to None.
The operating system has PXELinux, PXEgrub2 and iPXE templates associated with.
Host configuration :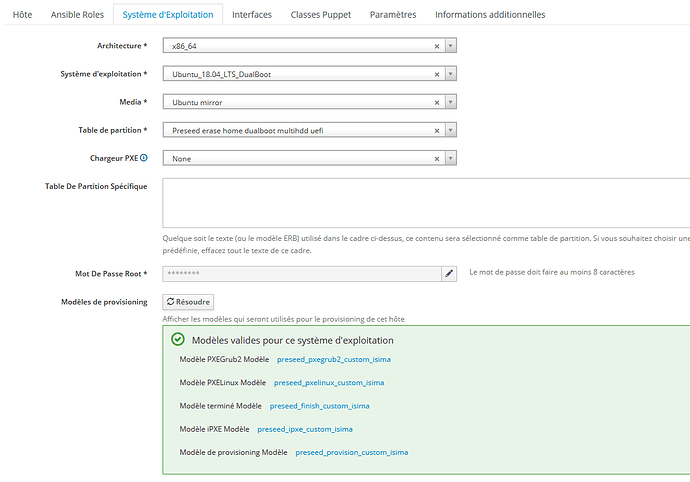 Only the pxe Linux file is created when I build the host.
Pxegrub2 file is created when I rebuild the host.
I've tried to set differents pxeloader, same result
Production.log (following autoprovision, ipxe and Pxegrub2 are created)
Summary

2020-07-17T11:59:04 [I|app|e4ebeaf9] Match found for host mac004e01 (177) rule A112 (126)
2020-07-17T11:59:04 [D|app|e4ebeaf9] Auto-provisioning via rule A112 hostgroup     DualBoot_MultiHDD_Ubuntu_Windows_UEFI/A112 subnet eleves
2020-07-17T11:59:05 [D|app|e4ebeaf9] Enqueued task 'Deploy TFTP PXELinux config for a112pc11.local' to 'Host::Managed Main' queue
2020-07-17T11:59:05 [D|app|e4ebeaf9] Enqueued task 'Deploy TFTP PXEGrub2 config for a112pc11.local' to 'Host::Managed Main' queue
2020-07-17T11:59:05 [D|app|e4ebeaf9] Enqueued task 'Deploy TFTP PXEGrub config for a112pc11.local' to 'Host::Managed Main' queue
2020-07-17T11:59:05 [D|app|e4ebeaf9] Enqueued task 'Deploy TFTP iPXE config for a112pc11.local' to 'Host::Managed Main' queue
2020-07-17T11:59:05 [D|app|e4ebeaf9] Enqueued task 'Fetch TFTP boot files for a112pc11.local' to 'Host::Managed Main' queue
2020-07-17T11:59:05 [D|app|e4ebeaf9] Processing task 'Deploy TFTP PXELinux config for a112pc11.local' from 'Host::Managed Main'
2020-07-17T11:59:05 [D|tax|e4ebeaf9] Current organization set to ISIMA
2020-07-17T11:59:05 [D|tax|e4ebeaf9] Current location set to Salles_de_cours
2020-07-17T11:59:05 [D|tax|e4ebeaf9] Current location set to none
2020-07-17T11:59:05 [D|tax|e4ebeaf9] Current organization set to none
2020-07-17T11:59:05 [I|app|e4ebeaf9] Deploying TFTP PXELinux configuration for a112pc11.local
2020-07-17T11:59:05 [D|app|e4ebeaf9] Processing task 'Deploy TFTP PXEGrub2 config for a112pc11.local' from 'Host::Managed Main'
2020-07-17T11:59:05 [D|tax|e4ebeaf9] Current organization set to ISIMA
2020-07-17T11:59:05 [D|tax|e4ebeaf9] Current location set to Salles_de_cours
2020-07-17T11:59:05 [D|tax|e4ebeaf9] Current location set to none
2020-07-17T11:59:05 [D|tax|e4ebeaf9] Current organization set to none
2020-07-17T11:59:05 [I|app|e4ebeaf9] Deploying TFTP PXEGrub2 configuration for a112pc11.local
2020-07-17T11:59:05 [D|app|e4ebeaf9] Processing task 'Deploy TFTP PXEGrub config for a112pc11.local' from 'Host::Managed Main'
2020-07-17T11:59:05 [D|tax|e4ebeaf9] Current organization set to ISIMA
2020-07-17T11:59:05 [D|tax|e4ebeaf9] Current location set to Salles_de_cours
2020-07-17T11:59:05 [D|tax|e4ebeaf9] Current location set to none
2020-07-17T11:59:05 [D|tax|e4ebeaf9] Current organization set to none
2020-07-17T11:59:05 [I|app|e4ebeaf9] Skipping TFTP PXEGrub configuration for a112pc11.local
2020-07-17T11:59:05 [D|app|e4ebeaf9] Processing task 'Deploy TFTP iPXE config for a112pc11.local' from 'Host::Managed Main'
2020-07-17T11:59:05 [D|tax|e4ebeaf9] Current organization set to ISIMA
2020-07-17T11:59:05 [D|tax|e4ebeaf9] Current location set to Salles_de_cours
2020-07-17T11:59:05 [D|tax|e4ebeaf9] Current location set to none
2020-07-17T11:59:05 [D|tax|e4ebeaf9] Current organization set to none
2020-07-17T11:59:05 [I|app|e4ebeaf9] Deploying TFTP iPXE configuration for a112pc11.local
2020-07-17T11:59:05 [D|app|e4ebeaf9] Processing task 'Fetch TFTP boot files for a112pc11.local' from 'Host::Managed Main'
2020-07-17T11:59:05 [I|app|e4ebeaf9] Fetching required TFTP boot files for a112pc11.local
2020-07-17T11:59:05 [I|app|e4ebeaf9] Processed 5 tasks from queue 'Host::Managed Main', completed 5/5
2020-07-17T11:59:05 [D|app|e4ebeaf9] Task 'Deploy TFTP PXELinux config for a112pc11.local' *completed*
2020-07-17T11:59:05 [D|app|e4ebeaf9] Task 'Deploy TFTP PXEGrub2 config for a112pc11.local' *completed*
2020-07-17T11:59:05 [D|app|e4ebeaf9] Task 'Deploy TFTP PXEGrub config for a112pc11.local' *completed*
2020-07-17T11:59:05 [D|app|e4ebeaf9] Task 'Deploy TFTP iPXE config for a112pc11.local' *completed*
2020-07-17T11:59:05 [D|app|e4ebeaf9] Task 'Fetch TFTP boot files for a112pc11.local' *completed*

Production.log, when i build the host (pxeloader set to 'None')
Summary

2020-07-18T23:36:25 [I|app|c90923d0] Started PUT "/hosts/a112pc11.local/setBuild?auth_object=a112pc11.local&permission=build_hosts" for 192.168.79.51 at 2020-07-18 23:36:25 +0200
2020-07-18T23:36:25 [I|app|c90923d0] Processing by HostsController#setBuild as HTML
2020-07-18T23:36:25 [I|app|c90923d0]   Parameters: {"utf8"=>"â", "authenticity_token"=>"kFC==", "commit"=>"Build", "auth_object"=>"a112pc11.local", "permission"=>"build_hosts", "id"=>"a112pc11.local"}
2020-07-18T23:36:25 [D|tax|c90923d0] Current location set to none
2020-07-18T23:36:25 [D|tax|c90923d0] Current organization set to none
2020-07-18T23:36:25 [D|app|c90923d0] Enqueued task 'Désactiver la signature automatique PuppetCA pour a112pc11.local' to 'Host::Managed Post' queue
2020-07-18T23:36:25 [D|app|c90923d0] Enqueued task 'Nettoyer les certificats PuppetCA pour a112pc11.local' to 'Host::Managed Post' queue
2020-07-18T23:36:25 [D|app|c90923d0] Enqueued task 'Activer la signature automatique PuppetCA pour a112pc11.local' to 'Host::Managed Post' queue
2020-07-18T23:36:25 [D|app|c90923d0] Enqueued task 'Déployer TFTP %{king} config pour %{host}' to 'Host::Managed Main' queue
2020-07-18T23:36:25 [D|app|c90923d0] Task 'Déployer TFTP %{king} config pour %{host}' already in 'Host::Managed Main' queue
2020-07-18T23:36:25 [D|app|c90923d0] Task 'Déployer TFTP %{king} config pour %{host}' already in 'Host::Managed Main' queue
2020-07-18T23:36:25 [D|app|c90923d0] Task 'Déployer TFTP %{king} config pour %{host}' already in 'Host::Managed Main' queue
2020-07-18T23:36:25 [D|app|c90923d0] Enqueued task 'Récupération des fichiers de boot en TFTP pour a112pc11.local' to 'Host::Managed Main' queue
2020-07-18T23:36:25 [D|app|c90923d0] Processing task 'Déployer TFTP %{king} config pour %{host}' from 'Host::Managed Main'
2020-07-18T23:36:25 [D|tax|c90923d0] Current organization set to ISIMA
2020-07-18T23:36:25 [D|tax|c90923d0] Current location set to Salles_de_cours
2020-07-18T23:36:25 [D|tax|c90923d0] Current location set to none
2020-07-18T23:36:25 [D|tax|c90923d0] Current organization set to none
2020-07-18T23:36:25 [I|app|c90923d0] Deploying TFTP PXELinux configuration for a112pc11.local
2020-07-18T23:36:25 [D|app|c90923d0] Processing task 'Récupération des fichiers de boot en TFTP pour a112pc11.local' from 'Host::Managed Main'
2020-07-18T23:36:25 [I|app|c90923d0] Fetching required TFTP boot files for a112pc11.local
2020-07-18T23:36:25 [I|app|c90923d0] Processed 2 tasks from queue 'Host::Managed Main', completed 2/2
2020-07-18T23:36:25 [D|app|c90923d0] Task 'Déployer TFTP %{king} config pour %{host}' *completed*
2020-07-18T23:36:25 [D|app|c90923d0] Task 'Récupération des fichiers de boot en TFTP pour a112pc11.local' *completed*
2020-07-18T23:36:26 [I|aud|c90923d0] Host::Base (177) update event on build false, true
2020-07-18T23:36:26 [I|aud|c90923d0] Host::Base (177) update event on initiated_at , 2020-07-18 23:36:25 +0200
2020-07-18T23:36:26 [D|app|c90923d0] Processing task 'Désactiver la signature automatique PuppetCA pour a112pc11.local' from 'Host::Managed Post'
2020-07-18T23:36:26 [I|app|c90923d0] Delete the autosign entry for a112pc11.local
2020-07-18T23:36:26 [D|app|c90923d0] Processing task 'Nettoyer les certificats PuppetCA pour a112pc11.local' from 'Host::Managed Post'
2020-07-18T23:36:26 [I|app|c90923d0] Remove puppet certificate for a112pc11.local
2020-07-18T23:36:26 [D|app|c90923d0] Processing task 'Activer la signature automatique PuppetCA pour a112pc11.local' from 'Host::Managed Post'
2020-07-18T23:36:26 [I|app|c90923d0] Adding autosign entry for a112pc11.local
2020-07-18T23:36:26 [I|app|c90923d0] Processed 3 tasks from queue 'Host::Managed Post', completed 3/3
2020-07-18T23:36:26 [D|app|c90923d0] Task 'Désactiver la signature automatique PuppetCA pour a112pc11.local' *completed*
2020-07-18T23:36:26 [D|app|c90923d0] Task 'Nettoyer les certificats PuppetCA pour a112pc11.local' *completed*
2020-07-18T23:36:26 [D|app|c90923d0] Task 'Activer la signature automatique PuppetCA pour a112pc11.local' *completed*
2020-07-18T23:36:26 [D|app|c90923d0] custom hook after_build on a112pc11.local will be executed if defined.
2020-07-18T23:36:26 [I|app|c90923d0] Redirected to https://foreman.local/hosts/a112pc11.local
2020-07-18T23:36:26 [I|app|c90923d0] Completed 302 Found in 763ms (ActiveRecord: 72.2ms)
2020-07-18T23:36:26 [I|app|98f52b2c] Started GET "/hosts/a112pc11.local" for 192.168.79.51 at 2020-07-18 23:36:26 +0200

Production.log when i rebuild the host
Summary

2020-07-18T23:41:53 [I|app|7315e673] Started POST "/hosts/submit_rebuild_config?host_ids%5B%5D=177" for 192.168.79.51 at 2020-07-18 23:41:53 +0200
2020-07-18T23:41:53 [I|app|7315e673] Processing by HostsController#submit_rebuild_config as HTML
2020-07-18T23:41:53 [I|app|7315e673]   Parameters: {"utf8"=>"â", "authenticity_token"=>"C6q==", "host_ids"=>["177"]}
2020-07-18T23:41:53 [D|tax|7315e673] Current location set to none
2020-07-18T23:41:53 [D|tax|7315e673] Current organization set to none
2020-07-18T23:41:53 [I|app|7315e673] DHCP not supported for a112pc11.local, 172.16.43.110, skipping orchestration rebuild
2020-07-18T23:41:53 [I|app|7315e673] DNS record type a not supported for a112pc11.local, skipping orchestration rebuild
2020-07-18T23:41:53 [I|app|7315e673] DNS record type aaaa not supported for a112pc11.local, skipping orchestration rebuild
2020-07-18T23:41:53 [I|app|7315e673] DNS record type ptr4 not supported for a112pc11.local, skipping orchestration rebuild
2020-07-18T23:41:53 [I|app|7315e673] DNS record type ptr6 not supported for a112pc11.local, skipping orchestration rebuild
2020-07-18T23:41:53 [D|tax|7315e673] Current organization set to ISIMA
2020-07-18T23:41:53 [D|tax|7315e673] Current location set to Salles_de_cours
2020-07-18T23:41:53 [D|tax|7315e673] Current location set to none
2020-07-18T23:41:53 [D|tax|7315e673] Current organization set to none
2020-07-18T23:41:54 [I|app|7315e673] Deploying TFTP PXELinux configuration for a112pc11.local
2020-07-18T23:41:54 [D|tax|7315e673] Current organization set to ISIMA
2020-07-18T23:41:54 [D|tax|7315e673] Current location set to Salles_de_cours
2020-07-18T23:41:54 [D|tax|7315e673] Current location set to none
2020-07-18T23:41:54 [D|tax|7315e673] Current organization set to none
2020-07-18T23:41:54 [I|app|7315e673] Deploying TFTP PXEGrub2 configuration for a112pc11.local
2020-07-18T23:41:54 [D|tax|7315e673] Current organization set to ISIMA
2020-07-18T23:41:54 [D|tax|7315e673] Current location set to Salles_de_cours
2020-07-18T23:41:54 [D|tax|7315e673] Current location set to none
2020-07-18T23:41:54 [D|tax|7315e673] Current organization set to none
2020-07-18T23:41:54 [I|app|7315e673] Skipping TFTP PXEGrub configuration for a112pc11.local
2020-07-18T23:41:54 [I|app|7315e673] Redirected to https://foreman.local/hosts
2020-07-18T23:41:54 [I|app|7315e673] Completed 302 Found in 1165ms (ActiveRecord: 134.5ms)
2020-07-18T23:41:54 [I|app|d144c278] Started GET "/hosts" for 192.168.79.51 at 2020-07-18 23:41:54 +0200
2020-07-18T23:41:54 [I|app|d144c278] Processing by HostsController#index as HTML
2020-07-18T23:41:54 [D|tax|d144c278] Current location set to none
2020-07-18T23:41:54 [D|tax|d144c278] Current organization set to none
2020-07-18T23:41:54 [I|app|d144c278]   Rendering hosts/index.html.erb within layouts/application
2020-07-18T23:41:54 [I|app|d144c278]   Rendered common/_pagination.html.erb (1.1ms)
2020-07-18T23:41:54 [I|app|d144c278]   Rendered hosts/_list.html.erb (20.5ms)
2020-07-18T23:41:54 [I|app|d144c278]   Rendered hosts/index.html.erb within layouts/application (37.1ms)
2020-07-18T23:41:54 [I|app|d144c278]   Rendered common/_searchbar.html.erb (0.9ms)
2020-07-18T23:41:54 [I|app|d144c278]   Rendered layouts/_application_content.html.erb (3.2ms)
2020-07-18T23:41:54 [I|app|d144c278]   Rendering layouts/base.html.erb
2020-07-18T23:41:54 [I|app|d144c278]   Rendered layouts/base.html.erb (32.2ms)
2020-07-18T23:41:54 [I|app|d144c278] Completed 200 OK in 142ms (Views: 77.8ms | ActiveRecord: 22.1ms)

Foreman 1.24.3
Smart-proxy 1.24.3
CentOS Linux release 7.7.1908 (Core)
Thank for your help