Problem:
We already use Foreman/Katello for a while without any problems for our hosts with rpm products.
Now we need also to apply deb-products for some hosts.
Creating and syncing products/repos went well for Ubuntu 20LTS, Zabbix 5.2 and the Foreman Client (from https://apt.atix.de).
But for our Bacula Enterprise Edition product the sync ends with the following message:
Katello::Errors::Pulp3Error: value too long for type character varying(255)
See log-details below.
https://www.baculasystems.com/dl/< user >-< password >/debs/bin/12.8.1/focal-64/dists/focal/main/binary-amd64/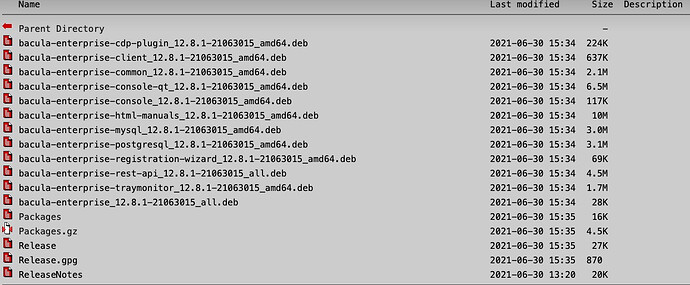 The file Packages contains the correct location of all the deb-packages, example:
Package: bacula-enterprise-cdp-plugin
Architecture: amd64
Version: 12.8.1-21063015
Priority: optional
Section: admin
Source: bacula-enterprise
Maintainer: Bacula Systems support@baculasystems.com
Installed-Size: 886
Pre-Depends: debconf (>= 1.4.30)
Depends: bacula-enterprise-common (= 12.8.1-21063015), bacula-enterprise-client (= 12.8.1-21063015)
Filename: dists/focal/main/binary-amd64/bacula-enterprise-cdp-plugin_12.8.1-21063015_amd64.deb
Size: 229318
MD5sum: 442e011f00c68316a1a3a6032eb07440
SHA1: a388040866bd9290f96002229b24328ccd1dcb38
SHA256: 0951950c5bef8f6070403295ed97890cc6c6d6a537cd436bc9c50f260d26b43a
SHA512: b07bd522c6f8acb7e0ea902c0564745d4ac47d7e2267c30f992b0cde29b20d7007940659a5b848528c5c7968e184ad469097c0b7c54f461443fb7786f0ec56a4
Homepage: http://www.baculasystems.com/
Description: Bacula CDP plugin
Bacula is a set of programs to manage backup, recovery and verification of
data across a network of computers of different kinds.
.
Bacula CDP plugin allows you to perform continuous data protection
.
This package provides the Bacula CDP plugin
Repo-config in Foreman: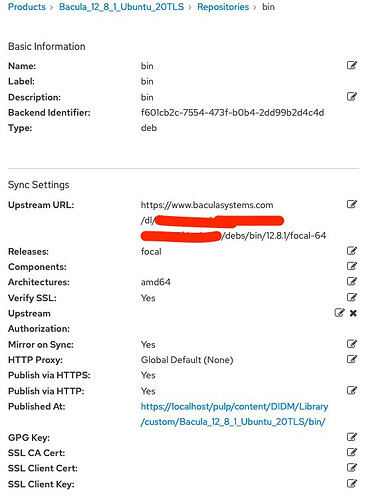 No idea what might be wrong in my config and if this is Katello or Pulp3 related.
Thanks in advance for any help/feedback.
Expected outcome:
Synced product
Foreman and Proxy versions:
Foreman 2.4
Katello 4.0
Pulp3
Foreman and Proxy plugin versions:
Distribution and version:
CentOS Linux release 8.3.2011
Other relevant data:
Error-output:
{"pulp_tasks"=>
[{"pulp_href"=>"/pulp/api/v3/tasks/2ef31413-5367-4493-b5d9-e436e01c7986/",
"pulp_created"=>"2021-08-20T06:34:49.418+00:00",
"state"=>"failed",
"name"=>"pulp_deb.app.tasks.synchronizing.synchronize",
"logging_cid"=>"94de69d0c62d4f9985de1b5fab04de01",
"started_at"=>"2021-08-20T06:34:49.510+00:00",
"finished_at"=>"2021-08-20T06:34:52.875+00:00",
"error"=>
{"traceback"=>
" File "/usr/lib/python3.6/site-packages/rq/worker.py", line 975, in perform_job\n" +
" rv = job.perform()\n" +
" File "/usr/lib/python3.6/site-packages/rq/job.py", line 696, in perform\n" +
" self._result = self._execute()\n" +
" File "/usr/lib/python3.6/site-packages/rq/job.py", line 719, in _execute\n" +
" return self.func(*self.args, **self.kwargs)\n" +
" File "/usr/lib/python3.6/site-packages/pulp_deb/app/tasks/synchronizing.py", line 106, in synchronize\n" +
" DebDeclarativeVersion(first_stage, repository, mirror=mirror).create()\n" +
" File "/usr/lib/python3.6/site-packages/pulpcore/plugin/stages/declarative_version.py", line 148, in create\n" +
" loop.run_until_complete(pipeline)\n" +
" File "/usr/lib64/python3.6/asyncio/base_events.py", line 484, in run_until_complete\n" +
" return future.result()\n" +
" File "/usr/lib/python3.6/site-packages/pulpcore/plugin/stages/api.py", line 225, in create_pipeline\n" +
" await asyncio.gather(*futures)\n" +
" File "/usr/lib/python3.6/site-packages/pulpcore/plugin/stages/api.py", line 43, in call\n" +
" await self.run()\n" +
" File "/usr/lib/python3.6/site-packages/pulpcore/plugin/stages/content_stages.py", line 95, in run\n" +
" d_content.content.save()\n" +
" File "/usr/lib/python3.6/site-packages/pulpcore/app/models/base.py", line 115, in save\n" +
" return super().save(*args, **kwargs)\n" +
" File "/usr/lib/python3.6/site-packages/django_lifecycle/mixins.py", line 129, in save\n" +
" save(*args, **kwargs)\n" +
" File "/usr/lib/python3.6/site-packages/django/db/models/base.py", line 744, in save\n" +
" force_update=force_update, update_fields=update_fields)\n" +
" File "/usr/lib/python3.6/site-packages/django/db/models/base.py", line 782, in save_base\n" +
" force_update, using, update_fields,\n" +
" File "/usr/lib/python3.6/site-packages/django/db/models/base.py", line 873, in _save_table\n" +
" result = self._do_insert(cls._base_manager, using, fields, update_pk, raw)\n" +
" File "/usr/lib/python3.6/site-packages/django/db/models/base.py", line 911, in _do_insert\n" +
" using=using, raw=raw)\n" +
" File "/usr/lib/python3.6/site-packages/django/db/models/manager.py", line 82, in manager_method\n" +
" return getattr(self.get_queryset(), name)(*args, **kwargs)\n" +
" File "/usr/lib/python3.6/site-packages/django/db/models/query.py", line 1186, in _insert\n" +
" return query.get_compiler(using=using).execute_sql(return_id)\n" +
" File "/usr/lib/python3.6/site-packages/django/db/models/sql/compiler.py", line 1377, in execute_sql\n" +
" cursor.execute(sql, params)\n" +
" File "/usr/lib/python3.6/site-packages/django/db/backends/utils.py", line 67, in execute\n" +
" return self._execute_with_wrappers(sql, params, many=False, executor=self._execute)\n" +
" File "/usr/lib/python3.6/site-packages/django/db/backends/utils.py", line 76, in _execute_with_wrappers\n" +
" return executor(sql, params, many, context)\n" +
" File "/usr/lib/python3.6/site-packages/django/db/backends/utils.py", line 84, in _execute\n" +
" return self.cursor.execute(sql, params)\n" +
" File "/usr/lib/python3.6/site-packages/django/db/utils.py", line 89, in exit\n" +
" raise dj_exc_value.with_traceback(traceback) from exc_value\n" +
" File "/usr/lib/python3.6/site-packages/django/db/backends/utils.py", line 84, in _execute\n" +
" return self.cursor.execute(sql, params)\n",
"description"=>"value too long for type character varying(255)\n"},
"worker"=>"/pulp/api/v3/workers/58c17f71-fbcb-4ae9-8020-620b1dcfb826/",
"child_tasks"=>,
"progress_reports"=>
[{"message"=>"Downloading Artifacts",
"code"=>"downloading.artifacts",
"state"=>"canceled",
"done"=>3},
{"message"=>"Update ReleaseFile units",
"code"=>"update.release_file",
"state"=>"canceled",
"done"=>1},
{"message"=>"Update PackageIndex units",
"code"=>"update.packageindex",
"state"=>"canceled",
"done"=>0},
{"message"=>"Associating Content",
"code"=>"associating.content",
"state"=>"canceled",
"done"=>0},
{"message"=>"Un-Associating Content",
"code"=>"unassociating.content",
"state"=>"canceled",
"done"=>0}],
"created_resources"=>,
"reserved_resources_record"=>
["/pulp/api/v3/repositories/deb/apt/8f074f9c-0df5-4f58-a9a7-883e6dffed49/",
"/pulp/api/v3/remotes/deb/apt/e242ced3-0e4c-4486-a45c-92ca12deeaad/"]}],
"create_version"=>true,
"task_groups"=>,
"poll_attempts"=>{"total"=>6, "failed"=>1}}
Backtrace:
/usr/share/gems/gems/katello-4.0.0/app/lib/actions/pulp3/abstract_async_task.rb:102:in block in check_for_errors' /usr/share/gems/gems/katello-4.0.0/app/lib/actions/pulp3/abstract_async_task.rb:100:in each'
/usr/share/gems/gems/katello-4.0.0/app/lib/actions/pulp3/abstract_async_task.rb:100:in check_for_errors' /usr/share/gems/gems/katello-4.0.0/app/lib/actions/pulp3/abstract_async_task.rb:133:in poll_external_task'
/usr/share/gems/gems/dynflow-1.4.7/lib/dynflow/action/polling.rb:100:in poll_external_task_with_rescue' /usr/share/gems/gems/dynflow-1.4.7/lib/dynflow/action/polling.rb:22:in run'
/usr/share/gems/gems/dynflow-1.4.7/lib/dynflow/action/cancellable.rb:14:in run' /usr/share/gems/gems/katello-4.0.0/app/lib/actions/pulp3/abstract_async_task.rb:10:in run'
/usr/share/gems/gems/dynflow-1.4.7/lib/dynflow/action.rb:571:in block (3 levels) in execute_run' /usr/share/gems/gems/dynflow-1.4.7/lib/dynflow/middleware/stack.rb:27:in pass'
/usr/share/gems/gems/dynflow-1.4.7/lib/dynflow/middleware.rb:19:in pass' /usr/share/gems/gems/dynflow-1.4.7/lib/dynflow/middleware.rb:32:in run'
/usr/share/gems/gems/dynflow-1.4.7/lib/dynflow/middleware/stack.rb:23:in call' /usr/share/gems/gems/dynflow-1.4.7/lib/dynflow/middleware/stack.rb:27:in pass'
/usr/share/gems/gems/dynflow-1.4.7/lib/dynflow/middleware.rb:19:in pass' /usr/share/gems/gems/katello-4.0.0/app/lib/actions/middleware/remote_action.rb:16:in block in run'
/usr/share/gems/gems/katello-4.0.0/app/lib/actions/middleware/remote_action.rb:40:in block in as_remote_user' /usr/share/gems/gems/katello-4.0.0/app/models/katello/concerns/user_extensions.rb:21:in cp_config'
/usr/share/gems/gems/katello-4.0.0/app/lib/actions/middleware/remote_action.rb:27:in as_cp_user' /usr/share/gems/gems/katello-4.0.0/app/lib/actions/middleware/remote_action.rb:39:in as_remote_user'
/usr/share/gems/gems/katello-4.0.0/app/lib/actions/middleware/remote_action.rb:16:in run' /usr/share/gems/gems/dynflow-1.4.7/lib/dynflow/middleware/stack.rb:23:in call'
/usr/share/gems/gems/dynflow-1.4.7/lib/dynflow/middleware/stack.rb:27:in pass' /usr/share/gems/gems/dynflow-1.4.7/lib/dynflow/middleware.rb:19:in pass'
/usr/share/gems/gems/foreman-tasks-4.0.1/app/lib/actions/middleware/rails_executor_wrap.rb:14:in block in run' /usr/share/gems/gems/activesupport-6.0.3.4/lib/active_support/execution_wrapper.rb:88:in wrap'
/usr/share/gems/gems/foreman-tasks-4.0.1/app/lib/actions/middleware/rails_executor_wrap.rb:13:in run' /usr/share/gems/gems/dynflow-1.4.7/lib/dynflow/middleware/stack.rb:23:in call'
/usr/share/gems/gems/dynflow-1.4.7/lib/dynflow/middleware/stack.rb:27:in pass' /usr/share/gems/gems/dynflow-1.4.7/lib/dynflow/middleware.rb:19:in pass'
/usr/share/gems/gems/dynflow-1.4.7/lib/dynflow/action/progress.rb:31:in with_progress_calculation' /usr/share/gems/gems/dynflow-1.4.7/lib/dynflow/action/progress.rb:17:in run'
/usr/share/gems/gems/dynflow-1.4.7/lib/dynflow/middleware/stack.rb:23:in call' /usr/share/gems/gems/dynflow-1.4.7/lib/dynflow/middleware/stack.rb:27:in pass'
/usr/share/gems/gems/dynflow-1.4.7/lib/dynflow/middleware.rb:19:in pass' /usr/share/gems/gems/foreman-tasks-4.0.1/app/lib/actions/middleware/keep_current_request_id.rb:15:in block in run'
/usr/share/gems/gems/foreman-tasks-4.0.1/app/lib/actions/middleware/keep_current_request_id.rb:52:in restore_current_request_id' /usr/share/gems/gems/foreman-tasks-4.0.1/app/lib/actions/middleware/keep_current_request_id.rb:15:in run'
/usr/share/gems/gems/dynflow-1.4.7/lib/dynflow/middleware/stack.rb:23:in call' /usr/share/gems/gems/dynflow-1.4.7/lib/dynflow/middleware/stack.rb:27:in pass'
/usr/share/gems/gems/dynflow-1.4.7/lib/dynflow/middleware.rb:19:in pass' /usr/share/gems/gems/foreman-tasks-4.0.1/app/lib/actions/middleware/keep_current_timezone.rb:15:in block in run'
/usr/share/gems/gems/foreman-tasks-4.0.1/app/lib/actions/middleware/keep_current_timezone.rb:44:in restore_curent_timezone' /usr/share/gems/gems/foreman-tasks-4.0.1/app/lib/actions/middleware/keep_current_timezone.rb:15:in run'
/usr/share/gems/gems/dynflow-1.4.7/lib/dynflow/middleware/stack.rb:23:in call' /usr/share/gems/gems/dynflow-1.4.7/lib/dynflow/middleware/stack.rb:27:in pass'
/usr/share/gems/gems/dynflow-1.4.7/lib/dynflow/middleware.rb:19:in pass' /usr/share/gems/gems/foreman-tasks-4.0.1/app/lib/actions/middleware/keep_current_taxonomies.rb:15:in block in run'
/usr/share/gems/gems/foreman-tasks-4.0.1/app/lib/actions/middleware/keep_current_taxonomies.rb:45:in restore_current_taxonomies' /usr/share/gems/gems/foreman-tasks-4.0.1/app/lib/actions/middleware/keep_current_taxonomies.rb:15:in run'
/usr/share/gems/gems/dynflow-1.4.7/lib/dynflow/middleware/stack.rb:23:in call' /usr/share/gems/gems/dynflow-1.4.7/lib/dynflow/middleware/stack.rb:27:in pass'
/usr/share/gems/gems/dynflow-1.4.7/lib/dynflow/middleware.rb:19:in pass' /usr/share/gems/gems/dynflow-1.4.7/lib/dynflow/middleware.rb:32:in run'
/usr/share/gems/gems/dynflow-1.4.7/lib/dynflow/middleware/stack.rb:23:in call' /usr/share/gems/gems/dynflow-1.4.7/lib/dynflow/middleware/stack.rb:27:in pass'
/usr/share/gems/gems/dynflow-1.4.7/lib/dynflow/middleware.rb:19:in pass' /usr/share/gems/gems/foreman-tasks-4.0.1/app/lib/actions/middleware/keep_current_user.rb:15:in block in run'
/usr/share/gems/gems/foreman-tasks-4.0.1/app/lib/actions/middleware/keep_current_user.rb:54:in restore_curent_user' /usr/share/gems/gems/foreman-tasks-4.0.1/app/lib/actions/middleware/keep_current_user.rb:15:in run'
/usr/share/gems/gems/dynflow-1.4.7/lib/dynflow/middleware/stack.rb:23:in call' /usr/share/gems/gems/dynflow-1.4.7/lib/dynflow/middleware/world.rb:31:in execute'
/usr/share/gems/gems/dynflow-1.4.7/lib/dynflow/action.rb:570:in block (2 levels) in execute_run' /usr/share/gems/gems/dynflow-1.4.7/lib/dynflow/action.rb:569:in catch'
/usr/share/gems/gems/dynflow-1.4.7/lib/dynflow/action.rb:569:in block in execute_run' /usr/share/gems/gems/dynflow-1.4.7/lib/dynflow/action.rb:472:in block in with_error_handling'
/usr/share/gems/gems/dynflow-1.4.7/lib/dynflow/action.rb:472:in catch' /usr/share/gems/gems/dynflow-1.4.7/lib/dynflow/action.rb:472:in with_error_handling'
/usr/share/gems/gems/dynflow-1.4.7/lib/dynflow/action.rb:564:in execute_run' /usr/share/gems/gems/dynflow-1.4.7/lib/dynflow/action.rb:285:in execute'
/usr/share/gems/gems/dynflow-1.4.7/lib/dynflow/execution_plan/steps/abstract_flow_step.rb:18:in block (2 levels) in execute' /usr/share/gems/gems/dynflow-1.4.7/lib/dynflow/execution_plan/steps/abstract.rb:167:in with_meta_calculation'
/usr/share/gems/gems/dynflow-1.4.7/lib/dynflow/execution_plan/steps/abstract_flow_step.rb:17:in block in execute' /usr/share/gems/gems/dynflow-1.4.7/lib/dynflow/execution_plan/steps/abstract_flow_step.rb:32:in open_action'
/usr/share/gems/gems/dynflow-1.4.7/lib/dynflow/execution_plan/steps/abstract_flow_step.rb:16:in execute' /usr/share/gems/gems/dynflow-1.4.7/lib/dynflow/director.rb:93:in execute'
/usr/share/gems/gems/dynflow-1.4.7/lib/dynflow/executors/sidekiq/worker_jobs.rb:11:in block (2 levels) in perform' /usr/share/gems/gems/dynflow-1.4.7/lib/dynflow/executors.rb:18:in run_user_code'
/usr/share/gems/gems/dynflow-1.4.7/lib/dynflow/executors/sidekiq/worker_jobs.rb:9:in block in perform' /usr/share/gems/gems/dynflow-1.4.7/lib/dynflow/executors/sidekiq/worker_jobs.rb:25:in with_telemetry'
/usr/share/gems/gems/dynflow-1.4.7/lib/dynflow/executors/sidekiq/worker_jobs.rb:8:in perform' /usr/share/gems/gems/dynflow-1.4.7/lib/dynflow/executors/sidekiq/serialization.rb:27:in perform'
/usr/share/gems/gems/sidekiq-5.2.7/lib/sidekiq/processor.rb:192:in execute_job' /usr/share/gems/gems/sidekiq-5.2.7/lib/sidekiq/processor.rb:165:in block (2 levels) in process'
/usr/share/gems/gems/sidekiq-5.2.7/lib/sidekiq/middleware/chain.rb:128:in block in invoke' /usr/share/gems/gems/sidekiq-5.2.7/lib/sidekiq/middleware/chain.rb:133:in invoke'
/usr/share/gems/gems/sidekiq-5.2.7/lib/sidekiq/processor.rb:164:in block in process' /usr/share/gems/gems/sidekiq-5.2.7/lib/sidekiq/processor.rb:137:in block (6 levels) in dispatch'
/usr/share/gems/gems/sidekiq-5.2.7/lib/sidekiq/job_retry.rb:109:in local' /usr/share/gems/gems/sidekiq-5.2.7/lib/sidekiq/processor.rb:136:in block (5 levels) in dispatch'
/usr/share/gems/gems/sidekiq-5.2.7/lib/sidekiq.rb:37:in block in <module:Sidekiq>' /usr/share/gems/gems/sidekiq-5.2.7/lib/sidekiq/processor.rb:132:in block (4 levels) in dispatch'
/usr/share/gems/gems/sidekiq-5.2.7/lib/sidekiq/processor.rb:250:in stats' /usr/share/gems/gems/sidekiq-5.2.7/lib/sidekiq/processor.rb:127:in block (3 levels) in dispatch'
/usr/share/gems/gems/sidekiq-5.2.7/lib/sidekiq/job_logger.rb:8:in call' /usr/share/gems/gems/sidekiq-5.2.7/lib/sidekiq/processor.rb:126:in block (2 levels) in dispatch'
/usr/share/gems/gems/sidekiq-5.2.7/lib/sidekiq/job_retry.rb:74:in global' /usr/share/gems/gems/sidekiq-5.2.7/lib/sidekiq/processor.rb:125:in block in dispatch'
/usr/share/gems/gems/sidekiq-5.2.7/lib/sidekiq/logging.rb:48:in with_context' /usr/share/gems/gems/sidekiq-5.2.7/lib/sidekiq/logging.rb:42:in with_job_hash_context'
/usr/share/gems/gems/sidekiq-5.2.7/lib/sidekiq/processor.rb:124:in dispatch' /usr/share/gems/gems/sidekiq-5.2.7/lib/sidekiq/processor.rb:163:in process'
/usr/share/gems/gems/sidekiq-5.2.7/lib/sidekiq/processor.rb:83:in process_one' /usr/share/gems/gems/sidekiq-5.2.7/lib/sidekiq/processor.rb:71:in run'
/usr/share/gems/gems/sidekiq-5.2.7/lib/sidekiq/util.rb:16:in watchdog' /usr/share/gems/gems/sidekiq-5.2.7/lib/sidekiq/util.rb:25:in block in safe_thread'
/usr/share/gems/gems/logging-2.3.0/lib/logging/diagnostic_context.rb:474:in `block in create_with_logging_context'