Problem:
We have a bunch if additional tasks that are attached to host provisioning and lifecycle actions. Mainly things evolve around storage, NFS Share creation/deletion/resize dependent on Foreman data and resizing partitions and PVs when disksizes of VMs are increased through Foreman.
We had all of this implemented via hook scripts through foreman_hooks and everything was working fine, but sice foreman_hooks is deprecated, we saw the need to migrate everything to the new thing: webhooks with shellhooks.
So, what we did was:
Rewrite our old scripts (this was mainly because the hooks had become kind of a legacy codebase noone wanted to maintain anymore)
Write a simple webhook template to feed our shellhook script
Subscribe webhooks to the host_created, host_deleted and host_updated events and calling our shellhooks endpoint
In our testing environment, everything looked fine, except we realized that host_updated created a lot of noise during Puppet runs, causing the hook to trigger multiple times per Puppet run. This is probably when we should have realized we are doing something wrong, but instead we decided to to just "filter" those triggers on the script level by exiting the script prematurely if the user who issued the update is either foreman_admin or foreman_api_admin.
Last weekend we deployed this setup to our production environment and things pretty much blew up instantly. After minutes, we had over 100 tasks in a bogus state:


We could only stop this by disabling webhooks on host_update events. Since then, the spam of these tasks has stopped, but so has our workflow for what the hooks were supposed to do. After investigating this further, I assume these should have been "Deliver webhook Host Updated" tasks, but instead they became some kind of zombies. We are unable to interact with the bogus tasks except for force-cancelling them or killing them via task_cleanup. Also there is no info on the taskpage itself, the raw tab just lists a lot of blank fields except for IDs: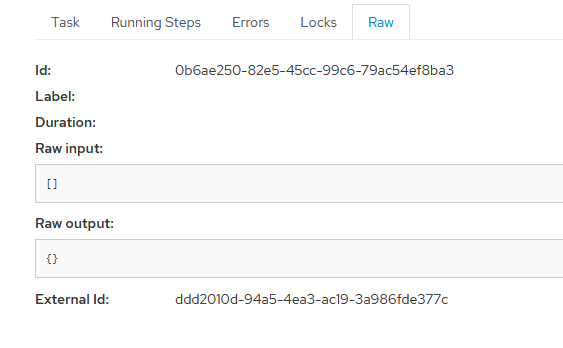 Expected outcome:
An answer to the questions:
Are we doing things wrong on a fundamental level?
Is host_updated an event we are not supposed to subscribe to?
Also, working hooks without a ton of dead zombie tasks would be nice
Plus, a "proper" way to get rid of all the host_updated events triggered through Puppet runs would be nice (and might even solve the issue by just not overloading Foreman with new tasks several times per second)
Foreman and Proxy versions:
3.2.1
Foreman and Proxy plugin versions:
Foreman Plugins:
 - foreman-tasks 6.0.1
 - foreman_expire_hosts 7.0.4
 - foreman_puppet 3.0.7
 - foreman_remote_execution 6.0.0
 - foreman_scc_manager 1.8.20
 - foreman_snapshot_management 2.0.1
 - foreman_templates 9.1.0
 - foreman_webhooks 3.0.3
 - katello 4.4.2.2
 - puppetdb_foreman 5.0.0

Smart Proxy:
# rpm -qa | grep smart_proxy
rubygem-smart_proxy_shellhooks-0.9.2-2.fm2_5.el8.noarch
rubygem-smart_proxy_dynflow-0.7.0-1.fm3_2.el8.noarch
rubygem-smart_proxy_dhcp_infoblox-0.0.16-6.fm3_2.el8.noarch
rubygem-smart_proxy_pulp-3.2.0-2.fm3_2.el8.noarch
rubygem-smart_proxy_remote_execution_ssh-0.5.3-1.fm3_2.el8.noarch

Distribution and version:
RHEL8.7
Other relevant data:
If there are any logs you want me to provide which could help with this issue, I can try and grab some. Since I will most likely have to enable the webhooks again for any meaningful logs, I will only to so if required.