Open Source Automation Days (OSAD) is an annual manufacturer-independent open source conference in Munich.
The central theme of OSAD is "Automation in Data Centers Based on Open Source ".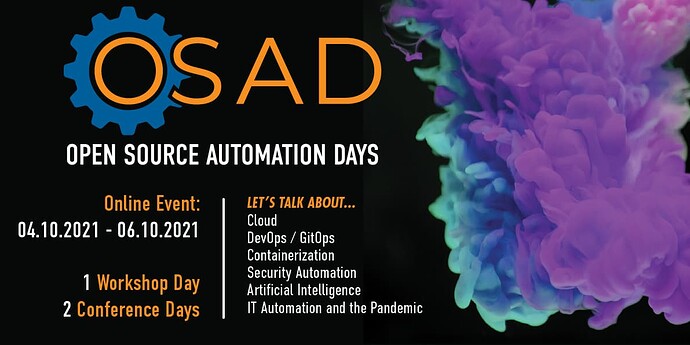 This year again, OSAD 2021 will be held online. Join us from the comfort of your home, and let's talk about automation and open source!
On Monday, October 4, OSAD offers amongst others the workshop: "Host Deployment and Initial Configuration with Foreman / orcharhino" See: host deployment and initial configuration with foreman / orcharhino - OSAD 2021
On Tuesday, October 5, 2 pm - 2:40 pm, Jan Bundesmann, Senior IT Consultant at ATIX AG, will talk about "Why you should use Lifecycle-Management with orcharhino – Slide 7 will Surprise you" See: Why you should use lifecycle-management with orcharhino - slide 7 will surprise you - OSAD 2021
Free tickets are available. Find out more on Open Source Automation Days - OSAD 2021