Hi everyone,
I'm hitting issues with ComputeResource mess all the time, especially problem with consolidating attributes to create / update VMs for Hosts. This is a long lasting issue [1]
TL;DR
I've created tracker for this effort and will work on in my pass time
I've once again came up with weird proposition how to do stuff
If you have refactoring ideas, that you think will take few releases to implement or you're unsure you will finish them, please read this proposal
Design for this effort
Code for compute resources is a mess. Most likely because it is hard to tackle as hardly anyone has all the compute resources, so testing is hard. So anyone who tries gives up after a while. Like me two years ago
This time with less enthusiasm and bit more experiences I can see it is not a task for one PR. What's worse it is probably not a task for one release, because it works, so noone will invest continuous uninterupted effort in cleaning up the code.
That's why I've decided to go step by step, as I've done in the past with simmilar refactorings. Usually the problem is, that I do the first steps, then get interrupted and never get back to it.
So this time, I've come up with an idea to add step of documenting the idea I have, so anyone (even myself after some time) can pick it up much more easily and continue where I left of, so I propose for every step here I'd first come up with a high level diagram for current state and to-be state. The additional benefit would be we get a high level developer documentation for a code most developers are afraid to touch. And even version control changes to this architecture.
Actual effort
Desing
Class diagram to design the introduced object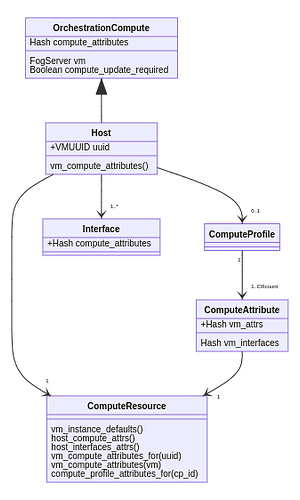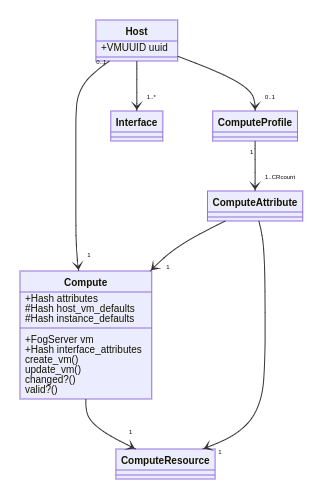 Sequence diagram of the current flow to render VM tab on Host form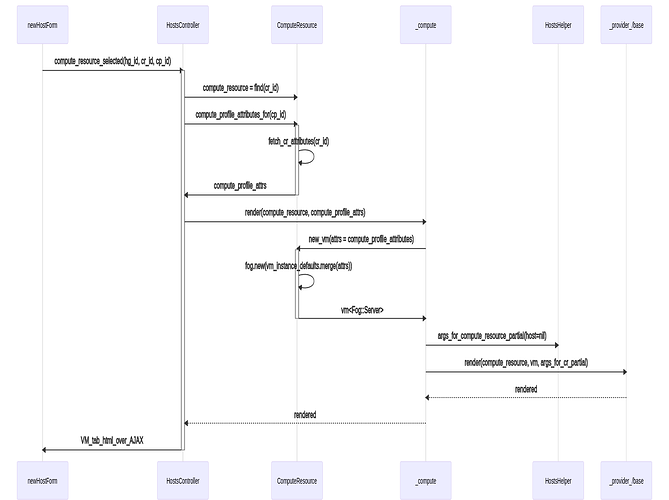 I've created an PR with documentation of current state
Mermaid sources for desired: withCompute.tar.gz (702 Bytes)
PRs implementing:
[1] Refactor #14536: Better definition of the merging of compute attributes from different sources - Foreman