Problem:
Hi,
Due to a missing preseed template for ubuntu 20 in order to create a netplan network config-file, I started to build one myself.
I have a working template, but for bridges I could see that "bridge.subnet6" could not be used in the template:

Code in the template:
<%- bridge_subnet6 = bridge.subnet6 -%>
<%- bridge_dhcp = bridge_subnet6.nil? ? false : bridge_subnet.dhcp_boot_mode? -%>
However, this can be used without any problem for other types of interfaces like bond, vlan and remaining managed.interfaces.
Is this effectively something missing in the product?
Anyway, currently I have something working (not the best way of coding due to missing knowledge of erb, and for now only for ipv4 config), see example-result conform the netplan-syntaxes, and tested on a ubuntu 20 system (installed manually):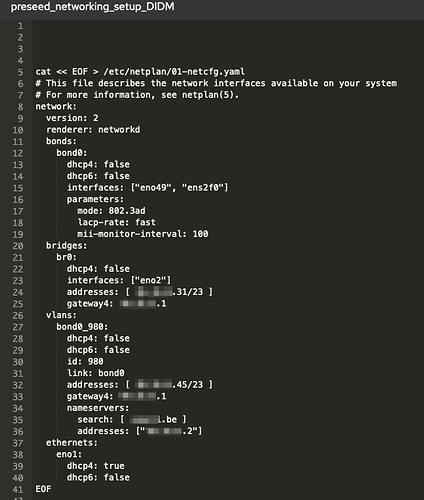 Please let me know to who or where I can share my template as it might be usefull for others and/or the community.
Expected outcome:
Foreman and Proxy versions:
Foreman 3.0.1
Katello 4.2.1
Foreman and Proxy plugin versions:
Distribution and version:
Other relevant data: