We are working on redesigning config management reports (detail page) and we would love to know your opinions, concerns about the proposed design.
Just for comparison, currently, it looks like this
breadcrumbs
a basic filter for message level,
3 column table,
So what we did is that we removed charts (as we didn't see much value there), added a status column, and the ability to filter statuses and search full-text. That's all in PF4 new look.
Here is a view of the Report detail page: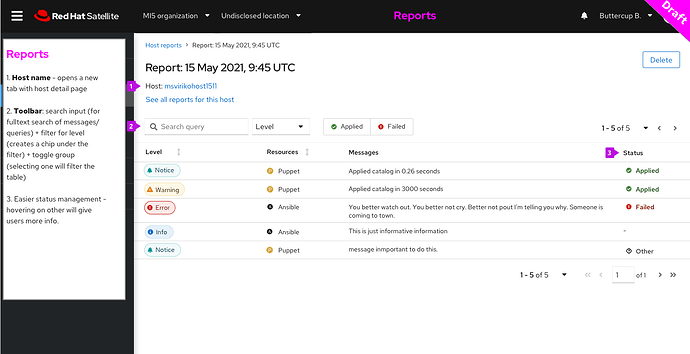 What's more, we simplify statuses to show just three eventful statuses: Applied/Failed/Other to be more consistent with other report types. (Hovering on 'other' status will give you more information about the status.) Do you miss any essential status here?
Any thoughts?
@ofedoren, @lzap, @ekohl @Marek_Hulan
Note: Index page for config management tbd.