Hi All,
Please correct me if this is the wrong place to post this kind of request/suggestion.
I have been doing a lot of work with SCAP reporting on RHEL7/8 and regularly use the Hosts->Policies->Dashboard screen

It would be really useful if you could add the ability to choose a lower than 100% compliance. We use 95% as there are always some exceptions and differences e.g. Oracle does not like the nodev mount-option being set on /tmp, and some servers such as Foreman require a http server.
It would also help if you could add a field/column that shows the compliance percentage as this is the most important thing for our auditors.
I would also like to see the ability to download this screen as a PDF report.
The following screen would also be really useful if we could download it.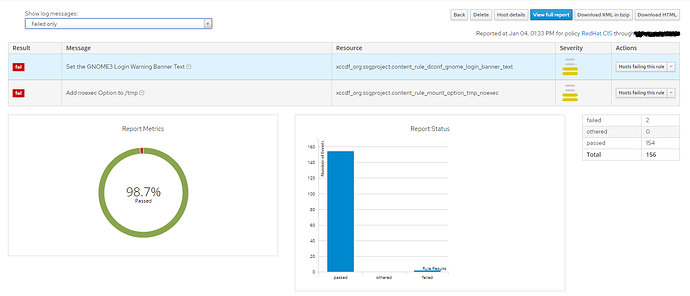 Regards,
Andrew