Problem:
I am currently rebuilding a Katello server and also decided to completely resync all external repos.
Unfortunately I'm not able to sync the yum repo of Microsoft RHEL 8 as one of the pulpcore-worker processes eats all of the available memory.
I saw an earlier post about the nearly same topic from some months ago, and it looks like this got mitigated there.
I even tried it 7 times now, including a service restart, this lowered the idle memory usage a bit but the process still uses all of the RAM.
Once even the whole machine crashed

Expected outcome:
Successful sync of the repository.
Foreman and Proxy versions:
foreman-2.5.3-1.el8.noarch
Foreman and Proxy plugin versions:
katello-4.1.3-1.el8.noarch
createrepo_c version:
python3-createrepo_c-0.17.1-1.el8.x86_64
pip-pulp packages:
pulp-ansible (0.9.0)
pulp-certguard (1.4.0)
pulp-container (2.7.1)
pulp-deb (2.14.1)
pulp-file (1.8.2)
pulp-rpm (3.14.3)
pulpcore (3.14.5)
Distribution and version:
Rocky Linux 8.4
Other relevant data:
This machine has 4 cores and 20GiB of memory (unfortunately also the maximum I can throw at it), the maximum memory I could peek on the pulpcore-worker process were 9.8GiB.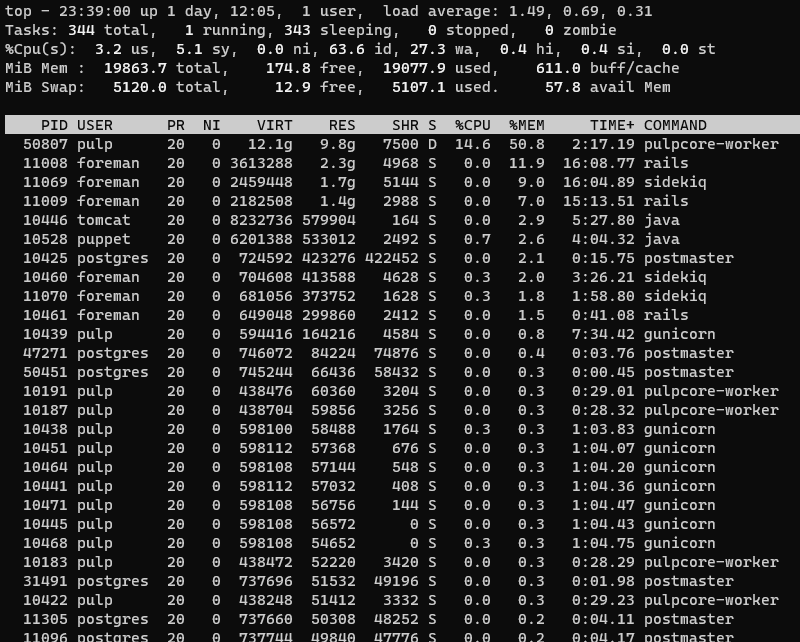 Interesting is also that there isn't really a big repo file in the repodata.
I hope I could already gather all the necessary information to make it easier to track the real issue on that case, if something more is needed I will off course provide it