Problem:
I created a repo for ubuntu and get error "Cannot create repository version. Path is duplicated: dists/focal-updates/Release." when syncing repo
Expected outcome:
populate repo with ubuntu packages
Foreman and Proxy versions:
foreman-2.4.0-1.el7.noarch
foreman-proxy-2.4.0-1.el7.noarch
katello-4.0.0-1.el7.noarch
pulp-client-1.0-1.noarch
Foreman and Proxy plugin versions:
Distribution and version:
CentOS Linux release 7.9.2009
Other relevant data:
Hello All,
So, as the topic says Im having issues trying to create a repo for ubuntu 20.04 hosts (and later 18.04). I have functional CentOS 7 and EPEL repos.
I created the repo like so:
hammer repository create
–product "ubuntu-20.04"
–name "Focal-Updates"
–label "Focal-Updates"
–content-type "deb"
–gpg-key "DEB-GPG-KEY-Ubuntu"
–url "http://de.archive.ubuntu.com/ubuntu"
–mirror-on-sync "no"
–deb-architectures "amd64"
–deb-components "main,restricted,universe,multiverse"
–deb-releases "focal-updates" \
I have had to remove the --gpg-key line in all my repo creations and do it in tha gui as hammer says its no longer a valid option as it was when creating repos on Foreman 2.31.and Katello 3.18
The repo looks like this:


When I sync the repo I get this: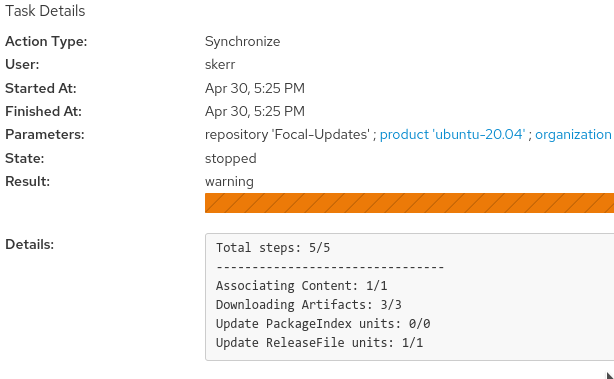 Under Details it says:


Hopefully its an easy fix. Coming from Spacewalk, I have to admit Foreman/Katello has not been an easy transition for me. Im much more a sysadmin than a dev ops guy.
Thanks,
Steve