Hi, community!
As you all know UXD team has been redesigning the host detail page for a while now. Here is the newest proposed addition to the page -The puppet tab.
It comprises sub-tabs: Reports (basic puppet details, puppet reports, resource chart), Assigned puppet classes, and Smart class parameters.
I'm looking for your feedback. Is there anything missing? Have you spotted major problems? Illogical flow? Please, be candid and let us know!
See full design here - not pixel perfect and contains dummy data


(Note: on the right side of the mockup there are notes)
Reports: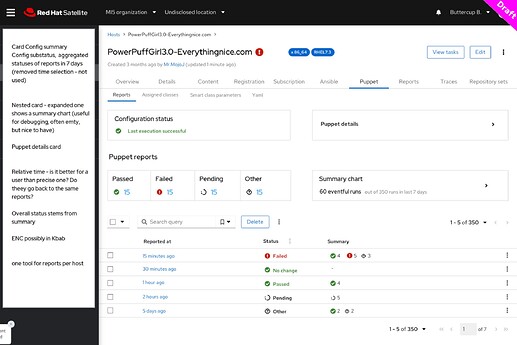 Assigned classes: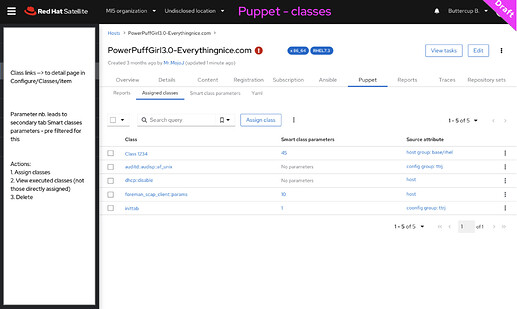 Smart class parameters: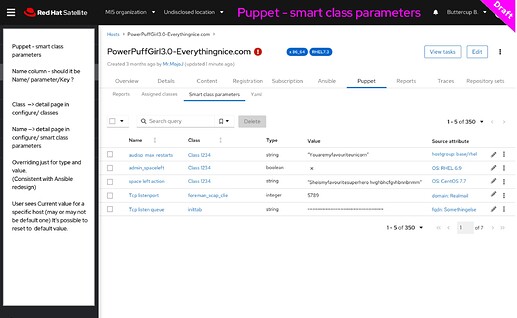 Here are some problems we have been dealing with:
Puppet reports
Should there be sub-tab Reports (with Puppet reports) if we are going to have a first-level tab Reports that would consist of reports from Puppet, Ansible, etc.?

Should Puppet details inside the card be always expanded? (environment, smart proxy, ENC preview, maybe also a link to view assigned classes/executed classes) Should there be any other details?

Do you want to see the configuration status here? Is it of any value to you?
Puppet smart class parameters
Is ok to use Name as a column header instead of Key (currently used term in smart class parameter detail page)?

Do you want to have the ability to reset the value back to the default one?