Problem:
I made a new Content View, which is composed from multiple Products (repositories).
When I assign the Content View to hosts, the hosts will consistently show that some of the repositories are disabled.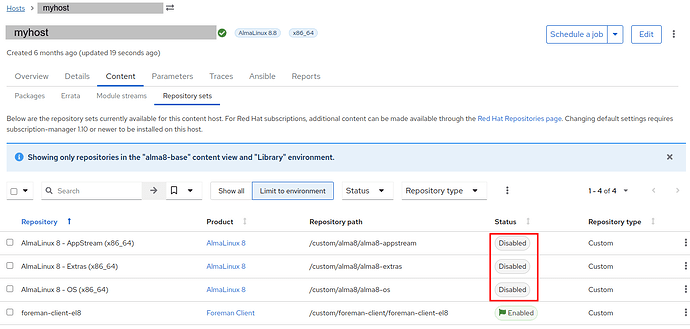 Expected outcome:
I could override (enable) all disabled repositories on each host, but I want to enable them on the global level (in the Content View).
I don't understand where a repository could be enabled or disabled in the Content View.
Not sure if the problem is me not understanding Content Views, or the Foreman?
Foreman and Proxy versions:
3.7.0
Foreman and Proxy plugin versions:
foreman-tasks 8.1.1
foreman_ansible 12.0.6
foreman_leapp 0.1.14
foreman_remote_execution 10.0.7
katello 4.9.2
Distribution and version:
Rocky Linux 8
Other relevant data: