Hello,
We're currently in the process of implementing the job details page that we shared with you a few months ago (view here). Thanks to the feedback we've received from different sources, we've made a couple of enhancements.
We're still very interested in hearing your thoughts on the following design solutions:
Open all failed runs in the separate tabs
We've introduced an action button to open failed jobs related to specific hosts in separate tabs. (Please note that this feature won't be enabled if there are around 100 or more failed hosts. It will be sufficiently explained in the UI) The opened tab will display just plain text - nothing fancy (but easy to copy).
We'd like to know if this straightforward code-based approach meets your needs, or if you'd prefer a more comprehensive interface. The current functionalities will be accessible through the expandable table on the main page. You can still filter via UI and then expand rows to see details or open a separate (plain) tab.
Questions
How do you feel about this solution? Do you have any concerns?
Do you need full or partial UI (e.g. just buttons) in a new tab?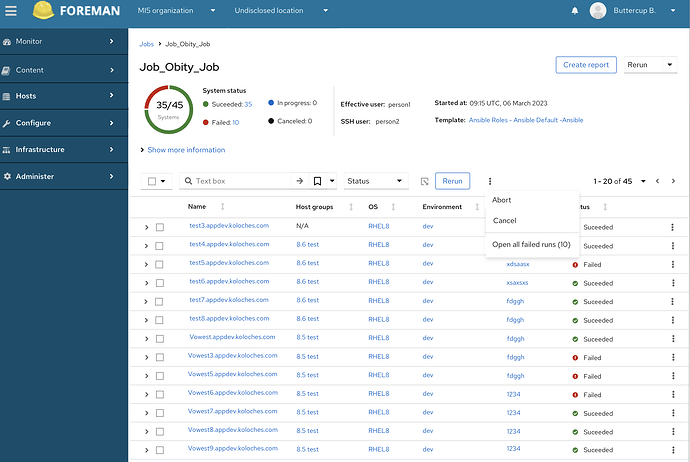 Templates Preview (may vary by host)
This feature has been incorporated into the expandable table where job details are displayed. You can switch to a template preview.
Questions
Do you use the template preview? What is your primary use case? Do you compare template previews between hosts? Is this solution clear and user-friendly for you? Do you have any concerns about this solution?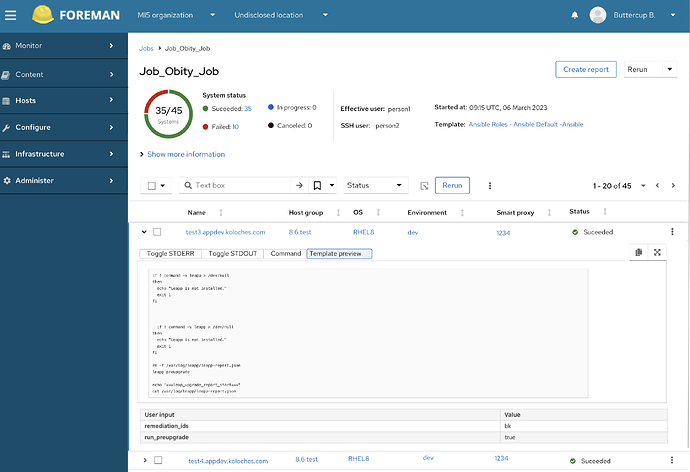 We value your feedback, so please share your thoughts in this thread. Thanks to your feedback we can improve Foreman and its experience.